2 November, 2011
The Atlas of Living Australia (ALA), in partnership with the Australian Museum (AM), has developed an online Volunteer Portal for keen members of the community to help capture non-digital information (e.g. typed or handwritten) that describes collection material within Australian museums. The system moved from its trial phase into full production in July 2011.
The team of developers and systems architects from the ALA consisted of Nick dos Remedios, Dave Martin, and Mark Woolston, with project management from Paul Flemons of the Australian Museum.
See: http://volunteer.ala.org.au/
Volunteer Portal home page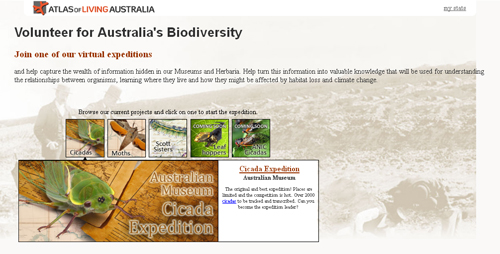 The aim of the project is to encourage volunteers to work on the monumental task of transcribing specimen labels, field notes, and expedition diaries from various Australian museums, into digitised records. So far several hundred volunteers have joined the program and around 7,000 individual tasks have been completed, but there is so much more to do! New volunteers are always very welcome, just sign up online.
Transcribe a label page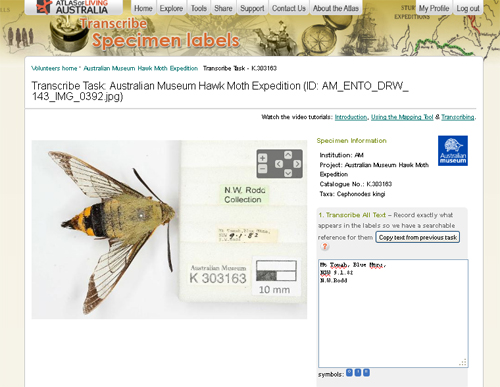 Currently three projects are on offer from the Australian Museum
The first two projects concern transcribing labels associated with images of physical specimens of Cicadas and Hawk Moths into digitised records. Data such as the Collector, Date, Location, and Identification is transcribed into their component fields. One of the team of Validators checks and possibly alters the submitted records. Validated records are then available to update digital specimen databases using standard Darwin Core metadata format.
The third fascinating project is to transcribe images of handwritten entomological field expedition diaries of the Scott sisters' who, during the 1930s, collected insects and painted beautiful illustrations of specimens.
Other projects soon to be released are label transcription of Leaf Hoppers for the Australian Museum, and a different collection of Cicadas, including some non-Australian, from CSIRO's Australian National Insect Collection (ANIC).
Each of these projects tries to liken the experience to being out in the field with the specimen collectors of over a century ago. The more work a volunteer does in transcribing labels or diary pages, the higher their standing in the expedition. They can move through the ranks of Technical Officer, Collection Manager, and Scientist to Expedition Leader. Images of expedition personal from the past enhance the reality of being one of the team and show the formal dress standards and personal grooming habits of the past!
Videos
Videos are available to provide more information for transcribing labels:
Associated Documents
Image based Digitisation of Entomology Collections. (Paul Flemons et al., TDWG 2011, New Orleans, October 2011) – PDF (919KB)
Atlas of Living Australia Report to Partners. pp: 16-17. October 2011 – PDF (2.8 MB)
Contact us
For more information about joining the program, contact:
Paul Flemons
Australian Museum, Sydney
Paul.Flemons@austmus.gov.au
+61 2 9320 6343