Natural History Collections Register
Natural History Collections Register
By Robyn Lawrence
 July 8, 2011
 Tags: 

Blogs & news

Collections
The Natural History Collections (NHC) register is designed to provide information about the natural history collections held in Australian museums, herbaria, universities, government departments, including the CSIRO, and other organisations and provide access to their digitised records.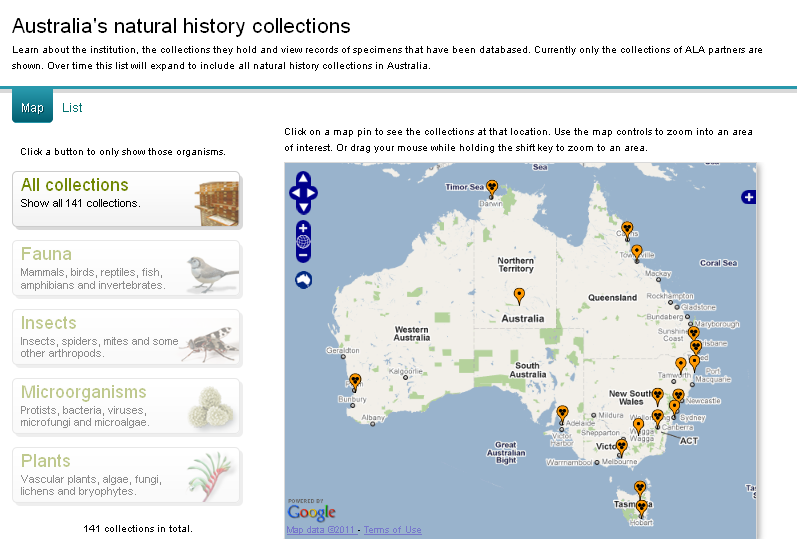 See http://collections.ala.org.au/ to explore our natural history collections.
Looking at a collection's page the reader is given an overview of the collection – where it is physically housed, its size and makeup, some interesting statistics and a means to access the specimen records. Contact details are also provided.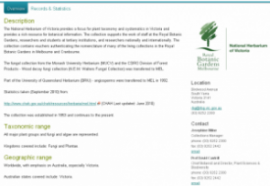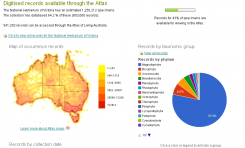 Click the image to display a larger image in a pop-up window.
Currently the NHC register holds information for all collections that come under the auspices of the newly formed Council of Australian Biological Collections (CABC). CABC is the overarching council representing Australia's collection community, with executive representatives drawn from each of the councils, those being the:
Before long it is hoped the NHC register will cover all Australian natural history collections, for instance those coming from university museums, community-run herbaria etc. This will allow the NHC register to become that one-stop shop for Australian natural history collections' metadata!
The NHC register has a set of web services that can be used by other collections indexers, or organisations wanting information on Australian natural history collections and the people who curate them.
Since late last year, the NHC register has been accessible to the public from the Atlas' website. The data was compiled by the Atlas initially using data from the Biodiversity Collections Index and the Resources of Australian Herbaria (RAH) with updates coming from collections' websites and feedback from the curators and directors.
Later this year, the NHC register will be moving into a new phase. In the fourth quarter, the content will be expanded to include more information about the taxonomic scope and holdings of collections including type specimens, to cater for molecular taxonomy and to store additional metadata required by the Resources of Australian Herbaria (RAH). The public interface of RAH will draw information from the NHC register, while retaining its own look and feel.
By late September, curators will have access to self-service editing facilities to allow them to keep their collections and institutions' metadata up to date. Support will still be available from the Atlas team.
Information in the register will also be used to provide the taxonomic component of the Australian Biological Resources Study (ABRS) reports on Australia's Taxonomic Capacity. The workforce component of these reports will be derived from ABRS's online surveys which in future will be supported by Atlas infrastructure.
For more information on the NHC:
Email: support@ala.org.au
Contact Us: Atlas Support