Making Tracks to the Atlas: From OzTrack to ZoaTrack
Making Tracks to the Atlas: From OzTrack to ZoaTrack
By Admin
 September 21, 2015
 Tags: 

Australia's species

Blogs & news

Citizen science

Data

Mapping & analysis
From big Crocodiles in Cape York to Little Penguins in and around St Kilda, the biodiversity projects that incorporate tracking devices are providing highly valuable data on the whereabouts of wildlife on-the-move.
At the beginning of 2015, the Atlas of Living Australia (ALA) took over the management of the free-to-use OzTrack application that facilitates the uploading, editing, analysis, archiving and sharing of datasets from animal tracking research projects. As part of the transition to the ALA, OzTrack has been re-released as ZoaTrack to reflect the growing international community of animal tracking scientists using the web-based application.  OzTrack was initially developed at The University of Queensland as part of a NeCTAR-funded collaboration between The University of Queensland's Schools of Biological Sciences, the Environmental Decisions Group, and the School of ITEE eResearch Lab.  When the initial project ended, the ALA stepped in to ensure the continued development and maintenance of the system with the long term goal of integrating the toolset into the ALA's suite, and ensuring the legacy of existing animal location datasets.
Animal telemetry studies generate a wealth of complex data issues with formats, map projections, timestamps, algorithms and calculations.  ZoaTrack's goals are to make spatial analytics tools easily accessible, so that researchers can spend less time wrangling the technology, and more time on science.   ZoaTrack has a broad base of research organisations involved in both the user community and on the steering committee.  The site manages both terrestrial and marine data and has an impressive collection of datasets across many locations and species. Users have the choice to openly share their datasets, or keep their data under embargo for a determined period.  The software is all open source so is free to use.  Once raw data is uploaded, users can easily run commonly used home range estimation algorithms and generate heat maps. They can add environment layers, do velocity and trajectory calculations, as well as apply cleansing filters and tools. Data and results can be exported in multiple formats.
Studies using ZoaTrack can be easily investigated from the site and showcase some intriguing case studies, including tracks made by Koalas, Cassowaries, and Crocodiles.
During August this year ECOCEAN and the WA Department of Education used the ZoaTrack platform as an outreach and education tool to hold a Whale Shark Race. 12 tagged whale sharks were assigned to West Australian primary schools and monitored by the students to see how far they travelled within a couple of weeks. Students were able to use ZoaTrack to learn more about marine ecology research and conservation. View an updated mapping of the 12 whale sharks here.
For more information about ZoaTrack, please visit the website www.zoatrack.org or to learn more about how biotelemetry is useful in ecological studies, check out this blog from the key ZoaTrack developers.
The integration into the Atlas of Living Australia will ensure the continued development and servicing of the ZoaTrack system, enabling this facility to evolve in parallel with the telemetry devices and helping ensure the long-term legacy of existing animal location datasets.
By Admin
 August 18, 2015
 Tags: 

Australia's species

Blogs & news

Citizen science

Natural history collections
A team including staff from the Museum and Gallery of the Northern Territory (MAGNT), Northern Territory Parks and Wildlife, Indigenous rangers and field assistants have recently completed the latest Bush Blitz expedition in the spectacular Judbarra/ Gregory National Park, in north western Northern Territory. Bush Blitz is a project designed to intensively survey and document the plants and animals across Australia's National Reserve system and is a partnership between Parks Australia – Australian Government, BHP Billiton Sustainable Communities and Earthwatch Australia. It is focused on species discovery, driven by the knowledge that up to 75 per cent of Australia's biodiversity is unknown to science.
The National Reserve System forms a network of more than 9000 properties, covering more than 11 per cent of the continent, including national parks run by all levels of government, lands managed by Indigenous owners and non-profit organisations, and parts of working properties managed for conservation by farmers.
Bush Blitz began in 2010 and has conducted expeditions to diverse areas including Flinders Island in Bass Strait, Queensland's wet tropics, the Gawler Ranges in South Australia and now to the stunning Judbarra/ Gregory National Park. Over the last five years these expeditions have found more than 900 new species, located 250 threatened species, and recorded 12,000 types of plants and animals in new localities. The latest expedition at Judbarra/ Gregory discovered at least seven new species of spider, including a previously unknown genus of tarantula. Other highlights included a record of one of Australia's rarest fish, the Neil's Grunter (Scortum neili) and the first record of the swamp eel from the Victoria River catchment.
While conducting a survey in the field might be the most exciting part of a Bush Blitz, a lot of the work takes place afterwards, as scientists return to museums and herbaria to identify, document and preserve the specimens and data collected, and work towards making new information available to land managers, government agencies and the public. These new specimens and sightings add to more than 30 million records held by museums and herbaria across the country. Museums and other collections play a vital role in preserving these specimens for the use of scientists and the general public, and preserving this invaluable record of our nation's biodiversity for the future.
Collections are particularly important in species discovery and taxonomy, as type specimens of newly discovered species are lodged in public collections such as museums, so that they are preserved indefinitely, and always accessible for review. Types are the individual specimen whose characteristics are described in the scientific paper naming the new species. Preservation and accessibility of these specimens ensures that future generations of taxonomists can verify identifications and expand our knowledge of the world around us. There are often new species to describe from the trips, either as complete new finds, or key material that contributes to broader detective work that helps uncover how many species are actually present.
Upon their return to the museum, staff prepare each specimen for long term storage, which can include fixing tissues of mammals, fish and reptiles, pinning and drying insects, identifying species,and carefully labelling each specimen.
Once the specimen is safely preserved, museum staff record information such as the identification, location and date of capture in databases, so those data can be used for all sorts of research, including large and small scale ecology, genetic analysis and land management.
This process takes considerable time, but data resulting from the Judbarra/ Gregory National Park Bush Blitz expedition will eventually be published online through the Atlas of Living Australia, for the information of the research community and general public. Bush Blitz records will add to more than 10 million collections-sourced records that form an invaluable resource in our quest to better understand Australia's biodiversity.
By Admin
 August 14, 2015
 Tags: 

Blogs & news

Citizen science

Data
The Atlas of Living Australia is set to receive a dataset that is bursting with thousands of 'wildlife selfies' which will eventually find their way onto the species profiles of the site. You can help by identifying the cheeky animals in these photos through the DigiVol portal.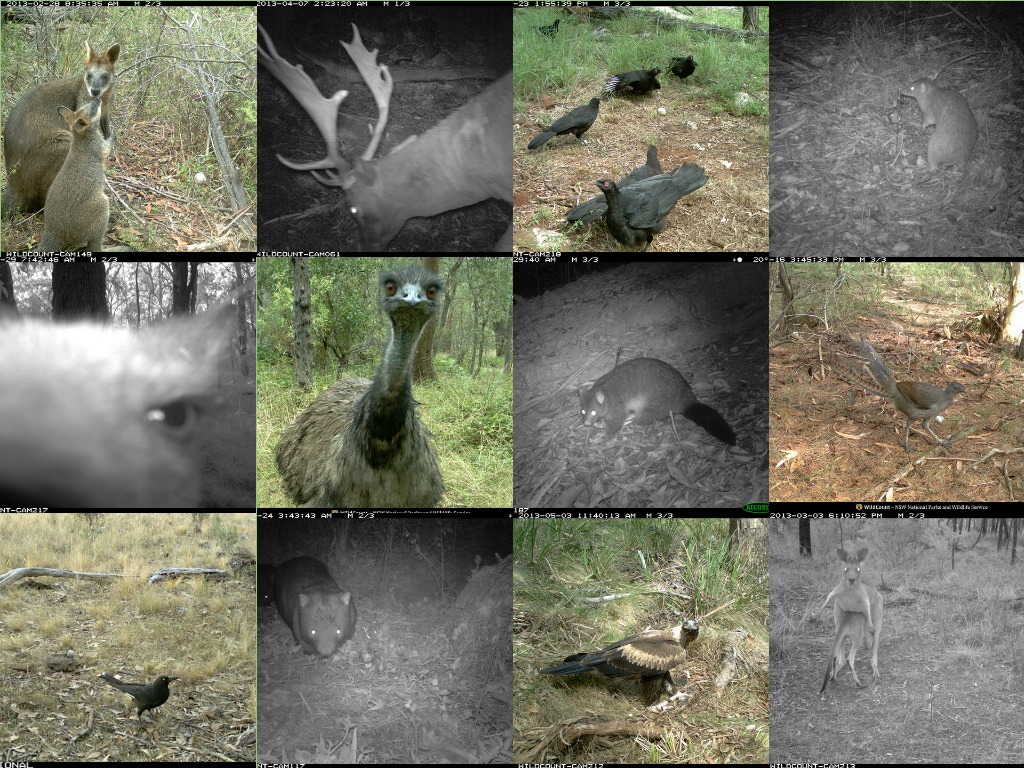 Investigating the decline of our native species
The WildCount project is an initiative from the NSW Office of Environment and Heritage and National Parks and Wildlife Service and is a 10-year monitoring program that uses 300 motion-sensitive digital cameras across 146 National parks and reserves. It looks at trends around what animals are present at these sites and how many there are, to understand if native species are in decline, increasing in number or stable.
Since the WildCount program started in 2012, over 800,000 images have been collected. Each year between February and May the WildCount team go out into the bush and set up the motion sensing cameras. They set up a lure of peanut butter and honey in a tea ball to attract the animals and wait two weeks before retrieving the cameras to see what they have captured.
The only problem is that when the team are done with checking all the cameras, there will be around 280,000 images captured. This takes a small team of researchers and volunteers almost a whole year to process accurately. While about one third of all the images contain no animals, WildCount has captured some truly weird and wonderful animal interactions so far, like a pair of wallabies having a hug, a curious emu, a Lyre bird attacking a black snake and a wombat crossing paths with a spider.
How can Citizen Scientists help?
The WildCount team is now looking to Citizen Scientists to help sift through this vast volume of 'animal selfies' to see if they can process the data much faster whilst still maintain the scientific accuracy of the study.  If you know what a kangaroo, emu, echidna or possum looks like or the name of the bird on the Australian 10c piece you've got the skills to be a citizen scientist on the WildCount project.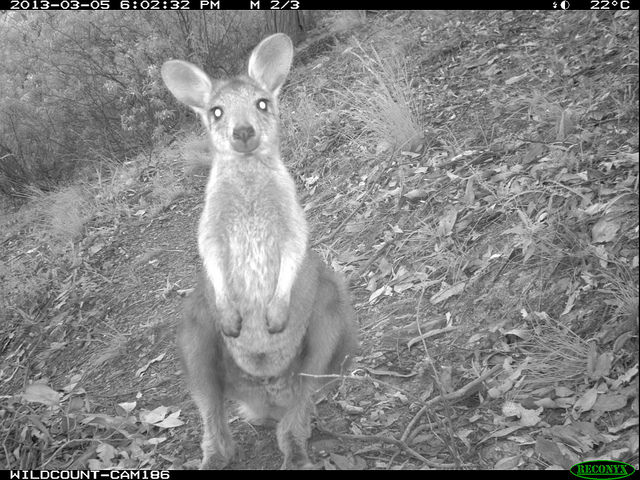 Citizen Scientists will use DigiVol, a website developed by the Australian Museum and the Atlas of Living Australia, to record information from each image such as the number of animals in the photograph and the name of the species. DigiVol has been primarily used for unlocking scientific data from the biodiversity collections of institutions in Australia and around the world including the Smithsonian, Kew Gardens, South Australian Museum, Museum Victoria, CSIRO's Australian National Insect Collection, Harvard University and many more. Its innovative and flexible online platform provides institutions with an easy to use interface for hosting their own "virtual expeditions" and is perfect for hosting WildCount. More importantly DigiVol provides an interesting and fun way for citizen scientists to contribute to science.
After the images are processed the WildCount team and experts will verify the species identification and counts. They are currently with biostatisticians from industry and CSIRO to help them detect changes in the occurrence of several Australian small-medium mammal species such as the brush tail possum, rock wallaby, lyrebird, grey kangaroo and the common wombat over 10 years. This will help understand if there are changes occurring that meet the criteria for listing species under the IUCN Red List. The power to detect such changes means scientists have an early warning system to see what is happening to common native species as well as examine other trends such as increase in pest species like red foxes.
By helping to capture this information, the community would be helping scientists understand changes in native and pest species which will assist in the management of NSW's precious biodiversity in National parks and reserves. It may also uncover a few weird and wonderful animal interactions or even prove the existence of Drop Bears or Bunyips once and for all!
It is hoped that many Citizen Scientists will join DigiVol and not only help with WildCount but the many other worthwhile "virtual expeditions" on DigiVol. Over the past four years DigiVol has seen over 1000 volunteers capture data from more than 170,000 labels and field note pages from museums and collections.
You can take part in the WildCount DigiVol expedition here.
The WildCount DigiVol expedition is a collaboration between the NSW  Office of Environment and Heritage, The Australian Museum  and the Atlas of Living Australia (ALA). The data from this project will be processed via DigiVol and uploaded to the ALA website and the data archived and made available through NSW BioNet Wildlife Atlas.
By Admin
 July 13, 2015
 Tags: 

Biodiversity Heritage Library

Biodiversity Volunteer Portal

Blogs & news

Citizen science

Natural history collections
The Atlas of Living Australia, in collaboration with the Australian Museum, developed DigiVol to harness the power of online volunteers to digitise biodiversity data that is locked up in biodiversity collections, field notebooks and survey sheets. DigiVol has attracted volunteers from all walks of life, and they are proud to announce that the 1000th volunteer has just joined the community!
DigiVol enables volunteers from around the world to transcribe handwritten diaries, scientist notebooks and specimen labels, and identify location data – in turn creating a digital record for physical ones. Through DigiVol, volunteers are helping museums and universities to make their research material available to everyone online. The data has many uses but most important is that it can help scientists and planning officials better understand, utilise, manage and conserve Australia's precious biodiversity.
Paul Flemons is Head of Citizen Science at Australia Museum and the manager of DigiVol, he explains "DigiVol enables the public to contribute to the process of scientific discovery in a way never previously possible. This is invaluable to museums in a time of scarce government funding."
Each DigiVol project is called an Expedition and can contain a number of pages or specimens that need to be transcribed into a digital version. Megan Edey as the largest contributor to DigiVol has completed over 40,000 tasks! Megan explains more about her work "I like doing both the insect and the diary expeditions on DigiVol. I especially liked working on the Edgar Waite diaries and following his life story. DigiVol is interspersed throughout my day, I sometimes log on in between doing the washing or feeding the horses or whenever the family are watching something boring on TV!  I can be logged on for between 2 and 5 hours a day."
Edgar Ravenswood Waite
(5 May 1866 – 19 January 1928) was a British/Australian zoologist, ichthyologist, herpetologist, and ornithologist, a curator of the Australian Museum between 1893-1906. He accompanied various trawling expeditions in the Pacific and sub-Antarctic and wrote of his work in diaries now housed in the Australian Museum Archives Collection.
The unique volunteer experience is explained in this Australian Museum blog "Different volunteers enjoy different tasks, with some of them becoming obsessed with the lives of the diary writers, others with transcribing insect labels. All of their efforts are captured in the DigiVol Honour Board where they aspire to be a Weekly Wonder, Monthly Maestro or DigiVol Legend by transcribing the most tasks weekly, monthly and overall."
DigiVol and its capability to assist with the enormous task of digitising their collections  is not restricted to Australia's museums and collections either;  institutions like the Smithsonian, New York Botanic Gardens, and Kew Gardens have also chosen DigiVol to host their own virtual expeditions to digitise their collections.
The University of Melbourne Herbarium is the latest collection institution to join in the DigiVol effort, with their first expedition focusing on legume specimens from the Burnley Horticultural College.
If you'd like to get involved and join DigiVol, simply head to www.volunteer.ala.org.au and there's a Facebook group too. Happy transcribing!
By Admin
 June 26, 2015
 Tags: 

Blogs & news

Citizen science

Communications

How to

Tools & web services
You might have noticed that the Atlas of Living Australia website has gone through a few changes in appearance over the past 6 months. We are currently upgrading our user interfaces to be consistent with our refreshed homepage.
This week the Atlas released a redesigned version of our Report a Sighting page, which allows users to report on sightings of species and upload their images to the Atlas. The map functionality has been simplified and we've added a new tool called "location-based species suggestion tool" which provides thumbnail images of species that are known to occur in the user's location. The page has also been optimised for use on mobile phones and tablets.
The Atlas has some exciting new identification tools in development that are soon to be released. We are also working on the capability to join the Atlas through your existing Social Media profiles such as Twitter, Facebook, and Google.
If you have any questions or comments regarding the ALA website upgrades, please send to support@ala.org.au
By Admin
 May 22, 2015
 Tags: 

Biodiversity Volunteer Portal

Biodiversity Volunteer Portal

Blogs & news

Citizen science

Data

Natural history collections

Partner Profiles
Earlier this month (11-17 May 2015) marked National Volunteer Week, a week dedicated to celebrating and thanking the 6 million Australian volunteers who spend their time enriching and improving Australia.
Australia's biodiversity knowledge and conservation is strongly supported and powered by volunteers, with plenty of people choosing to spend their time in the great outdoors; improving, protecting, and promoting our unique ecosystems. Biodiversity volunteers aren't just out in the bush though. Many help behind-the-scenes in our museums, galleries, herbariums, and collections. People from all walks of life are getting involved in the enormous effort to digitise the vast collections of records and specimens held by such institutions.
Worldwide, an estimated five million invertebrate species are yet to be described, according to the Numbers of Living Species in Australia and the World.  Invertebrates – animals without a backbone or vertebral column – are the most abundant group of animals on earth and yet they are the least documented. In Australia alone there are around 98,000 described species and an estimated 222,000 that are still unknown to science.
The South Australian Museum holds around two million specimens in its terrestrial invertebrate collection and around 1.75 million marine invertebrates. The Museum has begun a digitisation program to help address this backlog, and their doing this vital work using the Atlas of Living Australia and Australian Museum developed DigiVol portal.
To learn more about the efforts of the SA Museum volunteers and the importance of their work, click here.
While National Volunteer Week concludes for another year, the volunteering efforts to transform biological expedition diaries and specimen tags never ends. If you're interested in getting involved, please visit our DigiVol volunteer page  and best of all you don't even need to leave the house to join in the fun of transcription!
By Admin
 May 5, 2015
 Tags: 

ABOLN

Australia's species

Biodiversity Heritage Library

Biodiversity Volunteer Portal

Blogs & news

Citizen science

Communications

Data

Education

How to

Imaging

Indigenous

Mapping & analysis

Natural history collections

Partner Profiles

Tools & web services
The Atlas of Living Australia encourages its users to complete a quick online survey on the features and functions of the website.
The Atlas of Living Australia website has been operating since 2010 and provides free, online access to a vast repository of information about Australia's biodiversity. It supports research, environmental monitoring, conservation planning, biosecurity activities, education, citizen science, and the digitisation of millions of existing physical records around the country. The Atlas has over 54 million records on approximately 110,566 Australian species (as at May 2015 and growing rapidly), these records can be investigated through individual species profiles containing photos and collections data, and by using the mapping and analysis tools developed by the Atlas.
The Atlas of Living Australia would like to discover more about how the Atlas assists users to gain further information on Australian species and how the Atlas can improve for the future. An online survey has been developed to gain further insight into how you use the Atlas and an opportunity for you to provide the Atlas with some important feedback. No matter how much or how little you use the Atlas of Living Australia, we would like to hear from you – as an added incentive, you could win a fantastic Atlas of Living Australia prize pack, including your very own cap, t-shirt, and coffee mug!
The information gathered from this survey will be critical to ensuring we can provide the highest level of information and tools to support our users, national research, our partners, and the future of Australia's biodiversity.
To complete the survey click here. The survey will close on June 1st 2015.
The Atlas receives support from the Australian Government through the National Research Infrastructure for Australia (NCRIS).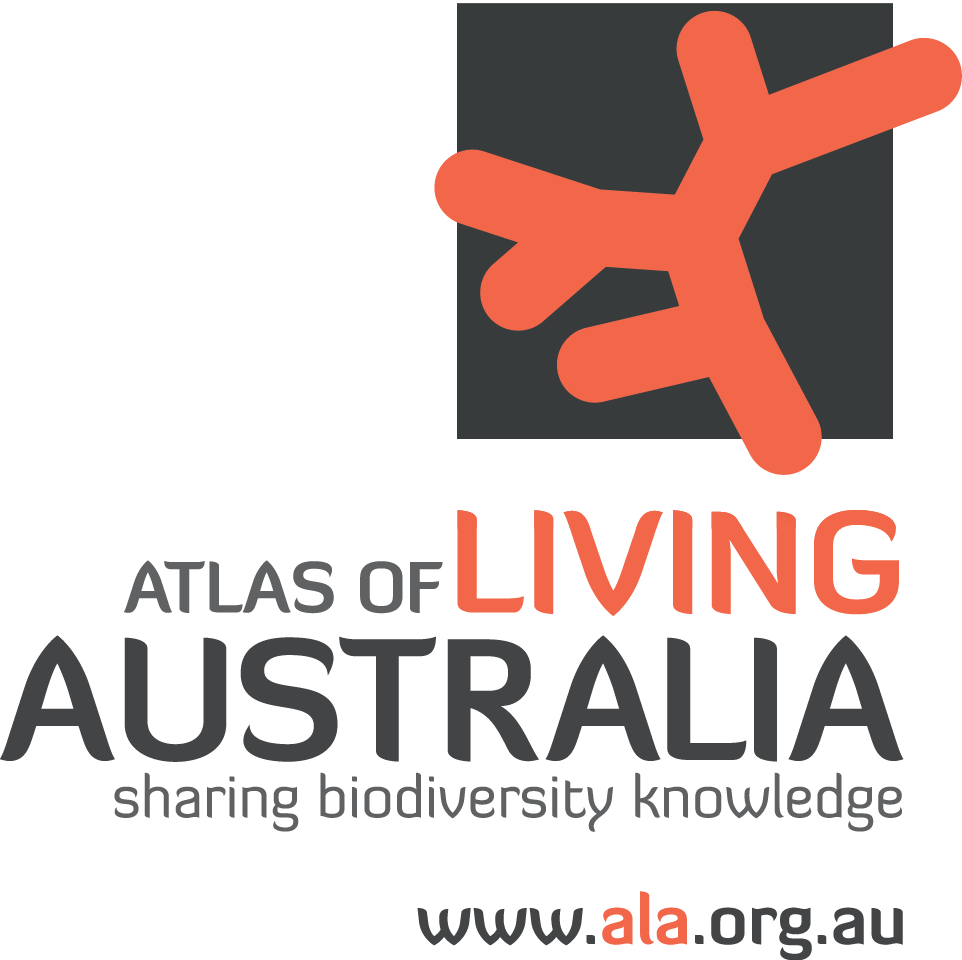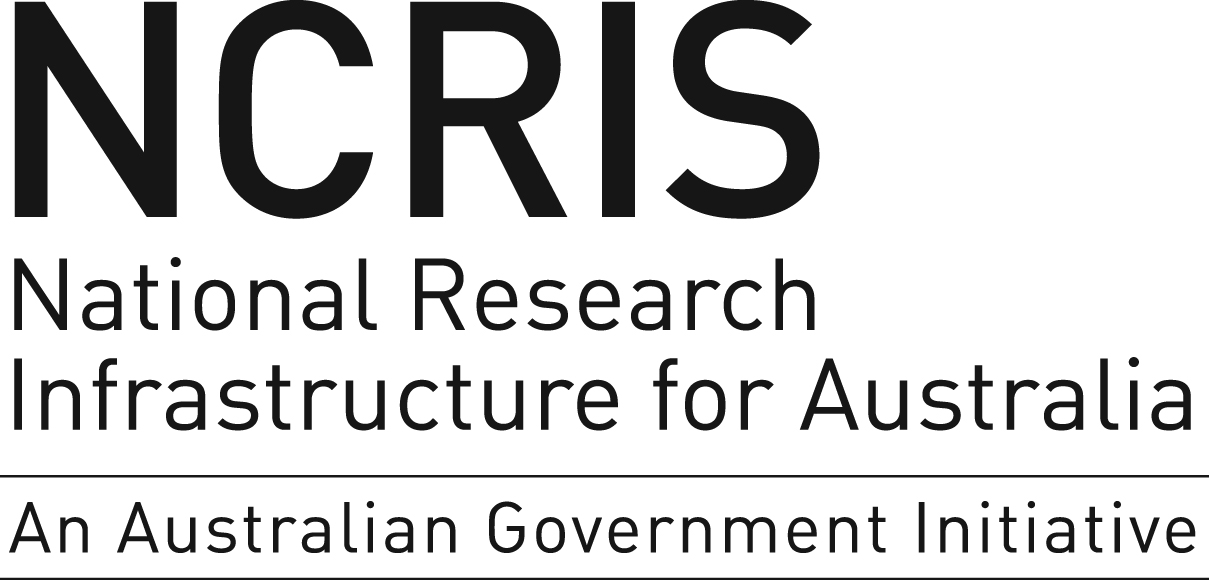 By Admin
 April 30, 2015
 Tags: 

Blogs & news

Citizen science
In November 2014 (during the World Parks Congress Public Festival 'Planetfest') over 500 children, scientists, naturalists, and World Parks Congress participants from Australia and around the globe, gathered at Cathy Freeman Park to take part in the largest species audit of Sydney's Olympic Park. The BioBlitz proved a success as one of the first major public facing citizen science events run by the NSW Office of Environment and Heritage.
Citizen scientists worked together to find and identify as many species of plants, animals and other organisms as possible. They braved the Sunday morning wind and rain conditions, to help experts compile a census of species in Sydney Olympic Park spotting birds, spiders, insects, water bugs and a plethora of other species using the iNaturalist app on their smartphones.
224 observations were made during the blitz, with many of the invertebrate species identified being logged in that area for the first time ever. To find out more about the species spotted on the day check out iNaturalist event page.
A National Geographic film crew was there on the day capturing all the excitement and interviewing participants about their experience. Check out the video summary of the day below.

The Atlas of Living Australia supports a range of citizen science events and encourages people from all walks of life to join in on the fun of discovering and documenting the diverse forms of life in our diverse ecosystems.
For more information on this successful event, please visit the NSW Office of Environment & Heritage website.
By Admin
 April 8, 2015
 Tags: 

Blogs & news

Citizen science

Natural history collections
Australian Citizen Scientists are busy (like bees!) documenting the spread of an exotic and invasive South African carder bee, Afranthidium Immanthidium repetitum. Through the great work of the BowerBird community, the Atlas of Living Australia has learnt that the known distribution for this species has increased significantly. From what was first recorded in Brisbane in 2000, Sydney in 2007, and recent records in Rockhampton and Albury lodged in late 2014.
Sadly, Ken Walker from the Victoria Museum has now confirmed a new sighting for the species: in Victoria. The species has well and truly crossed the state borders, and human transportation is the most likely cause for its spread, as explained in this Queensland Museum fact sheet.
The sighted bee was captured, recorded, and uploaded by a member of the public to the BowerBird website for identification on December 8 2014, from the suburb of Kew in Victoria.
The initial image of the male specimen was taken in alcohol, looking down one eyepiece of a microscope with an iPhone – an impressive photograph and certainly good enough for species identification (as there is no native megachilid bee in Australia with these distinctive yellow colour markings). The photographed specimen is now in the collection of Museum Victoria.
Unlike many other megachilid bee species, this bee does not nest in the ground or in wooden holes, but rather it makes a "cotton-ball like" free standing nest from "hairs" it gathers from plant leaves and forms its nest inside sheltered locations such as wooden boxes or window frames: making them a perfect candidate for human transportation.
Citizen Science is a very important source of data for Australian biodiversity knowledge. Data and insights gained through the efforts of everyday spotters can be as valuable as that obtained by scientists working in academia, natural history collections, government agencies and business. The new sightings of invasive pests uploaded by citizen scientists are a perfect example of how public knowledge and experiences with the environment around them can assist with issues of national importance, such as biosecurity.
BowerBird is supported by the Atlas of Living Australia and Museum Victoria. Records provided to and identified by BowerBird users are uploaded to the Atlas of Living Australia each week.
By Bryan Kalms
 January 29, 2015
 Tags: 

Blogs & news

Citizen science
Fungimap is one of the largest citizen science groups in Australia and – with over 100,000 fungi records available online– is the biggest single contributor of fungi records to the Atlas of Living Australia (the Atlas).
Fungimap uses information gathered by volunteer observers across Australia, from professionals to amateurs, to map the distribution of target species of Australian fungi. The target species have been selected for their relative ease of identification and the fact that they are generally widespread.
Fungimap was founded by Dr Tom May, a Senior Mycologist at the Royal Botanic Gardens Melbourne, and has been bringing together fungi enthusiasts from all over the country since its humble beginnings in 1995.
"When I had the idea for Fungimap, I thought that a handful of field naturalists would contribute, and the mapping scheme would run for a couple of years," Dr May said. "Almost 20 years later, more than 100,000 fungi records have been submitted, from almost 1,000 people and organisations from around Australia."
Although Fungimap has been around for 20 years, it's only recently that these important fungi records have been made readily available to a wider audience. Support from the Atlas in 2012 enabled Fungimap data to be delivered to the Atlas.
The Atlas funding also facilitated the incorporation of major data sets from individual fungi collectors – such as Genevieve Gates and David Ratkowsky, whose observation records number in the tens of thousands – into the Fungimap database, and on to the Atlas.
The collaboration between Fungimap and the Atlas continues, with the Atlas recently providing additional support for Fungimap to deliver a further 5000 observation records, along with images of 250 taxa. These additional records and images will help fill gaps in the fungi data available in the Atlas, benefitting both Fungimap members and the wider community.
"Having the Fungimap data in the Atlas is fantastic for the Fungimap community," says May. "It's rewarding for members to be able to easily view their own records, and the maps help identify gaps in fungi observations, which encourages people to go and look for more."
May's – and Fungimap's – contribution to the understanding of Australian fungi was formally recognised late last year when May was awarded the 2014 Australian Natural History Medallion by the Field Naturalists Club of Victoria.
The Australian Natural History Medallion is awarded each year to the person judged to have made the most meritorious contribution to the understanding of Australian Natural History. Dr May's contribution stems not only from his crucial role in Fungimap, but also from his scientific research at the National Herbarium of Victoria.
If you are interested in fungi, you can contribute to the Fungimap project by sending in records of any fungus you come across, either at home or in your travels. As so little is known about Australian fungi, all contributions are very valuable, even if you only learn to recognise a couple of species.
If you want to learn more about fungi, you might like to attend the Fungimap 8 Conference in April 2015, which will focus on building up people's knowledge of macrofungi. Each day of the conference, participants will get out in the bushland around Batemans Bay to look for fungi, learn about them in their natural habitat, and make observation records that will be contributed to the Atlas.