Australian Tropical Herbarium
Australian Tropical Herbarium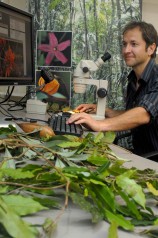 The Australian Tropical Herbarium (Herbarium code: CNS. www.ath.org.au), established in 2008, is a joint venture of the CSIRO, Parks Australia, Queensland Department of Science, Information Technology, Innovation and the Arts (Queensland DSITIA), and James Cook University (JCU). The ATH is physically located on the Cairns campus of JCU and has a collection of c. 180,000 herbarium specimens, wet collections and a DNA/tissue bank.
ATH's vision is to be a leader in tropical plant biodiversity research, which conducts diverse, relevant and innovative research; converts that research into useful products; offers training, inspiration and engagement with the community; and, by collaborating with others, achieves a greater understanding of sustainable tropical systems. This vision is supported by the organisation's core values of leadership, integrity, service, innovation and team-building.
Staff, students and associates of ATH undertake research to better understand the plant and fungal biodiversity of the tropics of Australia and neighbouring regions. To achieve this we work across a range of plant science disciplines with a core focus on taxonomy and systematics, biogeography, population genetics, ecosystem mapping, ethnobotany and development of identification tools.
The ATH is a partner in the ALA through the Council of Heads of Australasian Herbaria (CHAH). The Herbarium's collection is fully databased, and all specimen records are made available through the ALA and Australia's Virtual Herbarium (AVH).
For more information on the Australian Tropical Herbarium  and its ALA usage statistics, etc., see: http://collections.ala.org.au/public/show/co17.