International Barcode of Life Conference, Adelaide
International Barcode of Life Conference, Adelaide
By Lynne Sealie
 April 8, 2011
 Tags: 

Blogs & news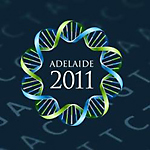 The 4th International Barcode of Life Conference will be held at the University of Adelaide between 28th November and 3rd December, 2011.
It will include:
Monday, Tuesday, 28 to 29 Nov: Short courses and special presentations on barcoding informatics and lab procedures.
Wednesday to Saturday, 30 Nov to 3 Dec: Main Conference.
The 2011 Adelaide Conference has several goals:
Sharing and discussing important results
Looking ahead to emerging technologies and approaches
Providing opportunities to plan new activities and form new collaborations
Offer training opportunities for newcomers.
The Conference may address any of the following areas of Barcoding:
Illegal wildlife and timber trade
Pest and disease diagnostics
Forensics
Quarantine identifications
Environmental monitoring & assessment
Animal, plant, fungal, protest, bacterial systematics
Beyond Barcoding
The Program Committee has designed the conference agenda as a mixture of:
Three plenary sessions with presentations of general interest
One session with four parallel meetings on barcoding plants, vertebrates, invertebrates, and fungi/microbes
One session for viewing poster presentations and exhibit booths. Coffee/tea breaks and lunch service will be in the poster display/exhibit booth area throughout the conference
Two sessions with many parallel meetings on taxon-specific discussions
One session with parallel meetings devoted to multi-taxon themes such as endangered species, pests and invasive species, biodiversity inventories and monitoring, and disease vectors.
Further information
For any other queries, please contact Sally Brown
Sally Brown – 4th Barcode Conference Secretariat (Conference Connections)
PO Box 108
Kenmore QLD 4069
Ph: (07) 3201 2808
Fax: (07) 3201 2809
Email: sally.brown@uq.net.au