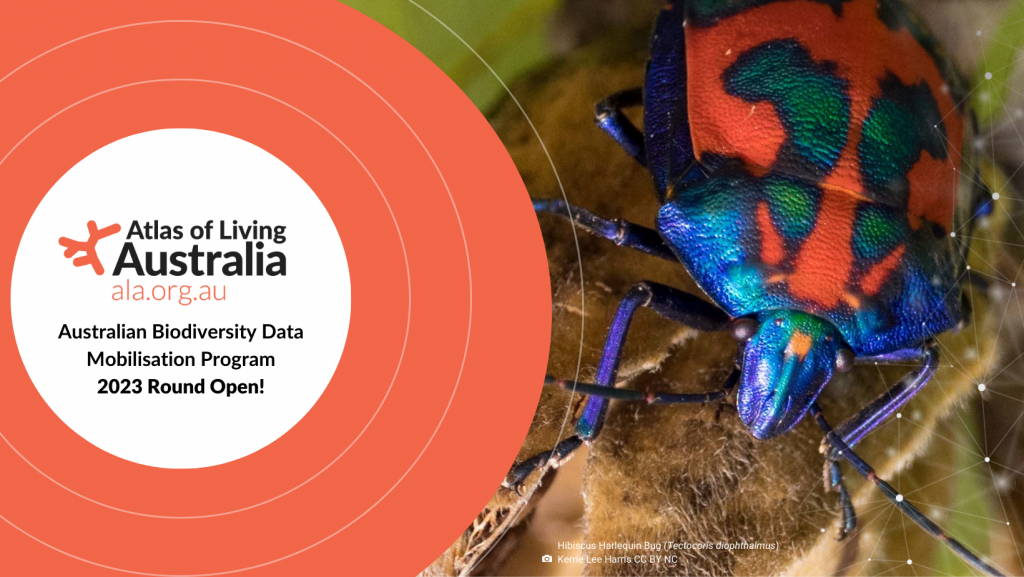 The ALA Australian Biodiversity Data Mobilisation Program is a grant program managed by the Atlas of Living Australia (ALA) designed to improve the scientific understanding of Australia's rare and remarkable biodiversity. The 2023 program will provide grants of either up to AUD $20,000 or AUD $50,000, to support the digitisation of existing biodiversity data and provide it to the ALA.
This program supports Australian museums, biological collections, herbaria, government and non-government organisations, and research teams to digitise data, making them accessible and available through the ALA, and internationally through the Global Biodiversity Information Facility.
Deadlines
Applications for the 2023 round of the program closed 30th April 2023.
Eligibility
Applicants must be associated with an Australian Institution to be eligible for the program.
Existing ALA partnership projects who already receive ALA or National Collaborative Research Infrastructure Strategy (NCRIS) financial support are ineligible for this program.
Applicants must agree to provide the data to the ALA in Darwin Core Standard under a Creative Commons licence, made open and accessible through the ALA if successful.
Program Details
Funding amounts
There are two funding amounts on offer through the 2023 program:
small grants up to AUD $20,000
large grants up to AUD $50,000
What data are in scope for the program?
Data must be in the form of Australian species occurrence records
The program cannot support new expeditions or field programs but should focus on mobilisation existing data, or biological specimens that require digitisation
Data mobilisation efforts should align with national priorities
See our FAQ's page for further information.
What can I use the funding for?
Funding can be used to support data mobilisation and/or infrastructure investments.
Data mobilisation investment could include:
Staff time to digitise specimens in biological collections including scanning
Conversion of existing analogue data, such as in field notes into the Darwin Core Standard for provision to the ALA.
Infrastructure investment could include:
Purchasing digital imaging equipment to create digital data from physical specimen records. For example, camera equipment to photograph biological collections, and scanners to copy specimen labels.
Selection process
An independent review panel chaired by ALA Advisory Board Member Professor David Cantrill will select the successful grant recipients. The panel will consist of members from the Royal Botanic Gardens Victoria, The Western Australia Department of Biodiversity, Conservation and Attractions, the University of New South Wales, and a representative from the ALA.
Successful applicants will be notified by 31st May 2023. Unsuccessful applicants will also be notified after this date.
Timeline
The successful applicants will have one year upon receiving funding to complete their projects and deliver data to the ALA in Darwin Core Standard.
Contracting
Successful applications will be expected to enter into a formal agreement with CSIRO to receive funding. See example here.
Projects will be contracted to institutions, not to individuals.
More information
If you have any questions regarding the program contact outreach@ala.org.au.
See the FAQ's section.
Read more about the 2022 successful projects on the ALA Blog.