Spending too much time with your nose to your computer screen? Instead of playing games hunched over a console why not try QuestaBird, a new Android game which will take you outside and into the bush.
Using your phone to photograph birds, butterflies and moths, the game involves competing with others to collect the most species and the greatest number of animals in your area.
The game works across Australia using over 2400 species of birds (with the option to upgrade to over half a million species). Players can join quests anywhere in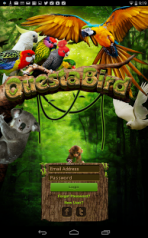 Australia, photograph birds and other animals, earn gold, buy virtual supplies and equipment, gain levels, build their collection, compete with other players and become Australia's highest-scoring adventurers.
"It was the path-breaking work of the ALA that allowed the concept of QuestaBird to take shape," explains Andrew Robinson co-founder of Questa.  "Once we saw what they were doing, our vision for the game was suddenly possible."
All sightings are tagged with location, date and time and submitted to the Atlas of Living Australia. The data is then verified and becomes part of the ALA's database to help map and protect Australia's biodiversity.
"Players are not only learning about their environment, they're collecting data that helps protect it.  In effect they have become citizen scientists without even knowing it." Says Robinson.
Best of all the game is free.
"QuestaBird will help to publicise what the Atlas is doing" says Peter Thew, an engineer at the Atlas of Living Australia.   "I hope it will spark interest in people to explore Australia's wonderful wildlife ."
QuestaBird works anywhere in Australia and includes all known Australian birds, butterflies and moths, with the option to upgrade to all known Australian animals. It's currently available on Android devices.