Hosted by the Atlas of Living Australia (ALA), this webinar brings together expert speakers from three organisations to explore the challenges, management strategies, and data sensitivities used to protect Australia's rarest and most vulnerable species.
Restricted Access Species Data – often known as 'sensitive species data' – is information about biodiversity with features that mean there are reasons for withholding the data from public view or modifying it before it is made public. An example of why obscuring species information may be necessary is because exposing a species' exact location could risk harm, exploitation, or poaching. Restricted Access Species Data are needed for conservation management, decision-making, and research to implement strategies to best protect 'sensitive species.'
This webinar took place at 1.00pm AEST, Wednesday 5 July 2023, with 195 live viewers in attendance.
Speakers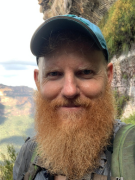 Philip Gleeson | NSW Department of Planning & Environment
Philip Gleeson is Senior Wildlife Data Officer for the NSW Department of Planning and Environment. Philip has worked on BioNet Atlas, the NSW government's primary repository of biodiversity data since 2001. He was part of the development team that turned it from an internal database to a website providing public and secure login access to external clients in 2011. It was through that development that the department was able to implement its Sensitive Species Data Policy which had been developed following 5 years of internal discussion and negotiation. In order to maintain his understanding of the biodiversity data he manages, Philip has participated in a range of survey programs across the department and is currently involved in the survey and mapping of two cliff-dwelling endemic plants of the Blue Mountains where he now resides.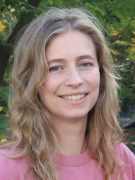 Rachel Swain | BirdLife Australia
Rachel Swain is the Citizen Science Engagement Manager at BirdLife Australia and has a background in data analysis, engineering and acoustic monitoring. As a strong advocate for citizen science, Rachel is committed to ensuring the Birdata community is an exciting and inclusive space that delivers the best conservation impact for Australian birds. When not working with the Birdata community, Rachel can usually be found trekking through the great outdoors, whether on foot or by bike, trying to spot as many birds as she can along the way.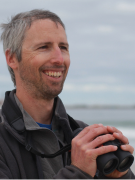 Golo Maurer | BirdLife Australia
Golo Maurer has been involved in ecological research and conservation for over 20 years both in Australia and overseas with over 50 peer-reviewed publications. He joined BirdLife Australia in 2010 and now leads BirdLife's Citizen Science Program and BirdLife's Indigenous engagement work. In his role, Golo helps ensure that the 22 million bird records in Birdata work for conservation and that Birdata empowers and inspires thousands of citizen scientists across Australia to make their birding count. When Golo does not watch birds or work to save them, he sleeps, compiling a dream list with 363 species recorded to date in this most challenging realm of birding.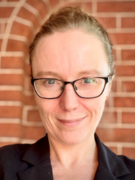 Helen Ensikat | WA Department of Biodiversity, Conservation and Attractions
Helen is the manager of Western Australia's Biodiversity Information Office, hosted within the Department of Biodiversity, Conservation and Attractions. She has a background in public sector data policy, evaluation, and regulation, and has been involved in the development of Western Australia's Open Data Policy, and forthcoming Privacy and Responsible Information Sharing reforms. She and her team at BIO are working to make curated biodiversity data from all environment-related sectors more discoverable, accessible, and useful.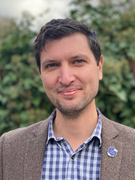 Moderator bio
Martin Westgate leads the Science and Decision Support team at the Atlas of Living Australia. His research focuses on how scientific information can be used to understand and mitigate human impacts on the environment, via a combination of empirical ecology and evidence synthesis. Martin is also a scientific software developer and occasional frog-watcher.
Want more?
All ALA webinars are available to view on our YouTube channel along with other video content.