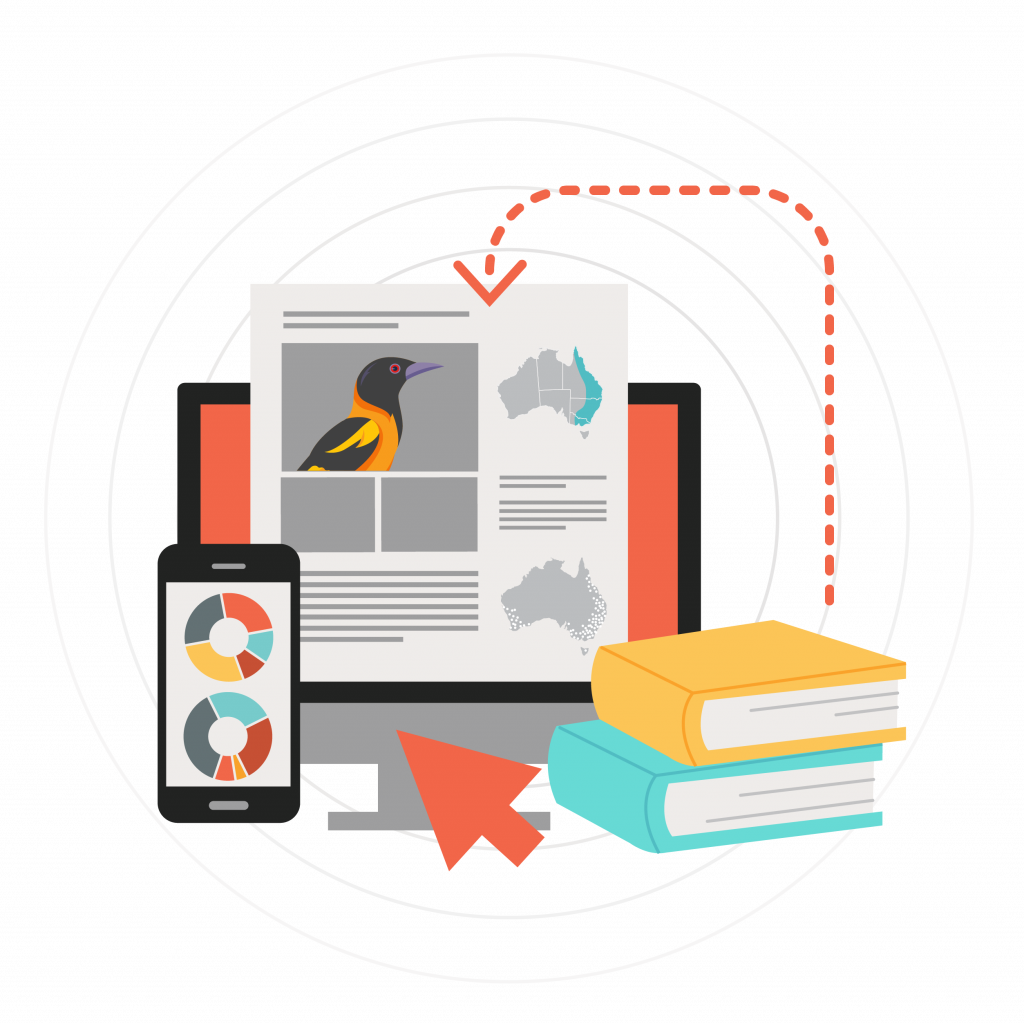 The ALA brings together occurrence record data, taxonomic information, spatial and historical information on species distributions, and environmental data. These data are central to the research areas of ecology, conservation, environmental planning, Indigenous ecological management and sustainability.
The ALA's contribution to the research output in these fields has steadily increased over the last 10 years. Now over 2,300 scientific publications have referenced the ALA, providing novel contributions to a range of fields.
Researchers have used data from ALA to show changes in Platypus numbers over the last 150 years, identify rare species that thrive in Australian towns and cities, and understand complex migration behaviour in insects that would otherwise go undetected. Images stored by the ALA have even been used to build apps that can automatically identify Australian insects in the field.
As our data holdings continue to grow, researchers continue finding new ways to draw on ALA in their research, bettering the understanding of Australia's unique biodiversity. Now, you can search and browse some of this research through our new webpage, ALA-cited publications.
If you are a researcher and use the ALA to access data or analytical tools, read How to cite the ALA for more detail on best practices for citing and acknowledging the ALA.
Ten years of the ALA
Ten years ago, Australian national collections, science organisations, and government agencies saw the opportunity for a national online and open data repository for biodiversity data. The Atlas of Living Australia (ALA) was established with funding from the Australian Government's National Research Infrastructure Strategy (NCRIS) to fulfill this role and aggregate Australia's biodiversity data.
"The ALA has changed the way biodiversity research and environmental decision making occurs in Australia," said ALA Director Dr Andre Zerger.
"We now have over 90 million occurrence records and function as the most comprehensive dataset on Australian biodiversity. The ALA has over 78,000 registered users and access to 700 datasets from data partners across research, government and citizen science." he said.
Built on partnerships
Central to the success of the ALA are the contributions from our data partners. They are the backbone of the ALA, providing authoritative data for species names and classification, geospatial reference data, environmental layers, and species occurrence data.
"The work of the organisations and institutions that provide data, and manage, curate and update that data, underpins our success and we look forward to continuing and growing these partnerships over another ten years," said Andre.
The diverse datasets all contribute to the rich tapestries of data that are accessible via the ALA, and enable the ALA to perform like a window into the complex world of biodiversity science.
National and global reach
The ALA not only delivers Australia's biodiversity data at a national level, it also contributes to the Global Biodiversity Information Facility (GBIF), an international network and data infrastructure funded by the world's governments to provide open access to data about all types of life on Earth.
"Through the GBIF living atlases community, the infrastructure our team first developed 10 years ago is now being used by 27 countries around the world to manage their biodiversity data," said Andre.
The ALA is the Australian node of GBIF and has significantly contributed to this global network for open biodiversity data access.
More information