The Atlas of Living Australia recently held a successful three day training workshop for a group of current and new users in the use of its FieldData software.
This online software (also known as the Biological Data Recording System, BDRS) was developed in collaboration with Gaia Resources and is being made available to a broad range of citizen science groups to collect and manage their field-captured data as well as share their information with others through the Atlas.
The course was convened and run by project managers Owen Butler and Peter Brenton from the Atlas, with other guest speakers from the Atlas and users of the FieldData software.
Attendees represented a wide range of organisations and interests with 30 participants representing 15 organisations, including NGOs, local Catchment Management Authorities, several community naturalist groups and research groups within CSIRO.
Participants came from as far away as Townsville and Perth to learn how to use the online open source Atlas tools to manage their field data, and join a growing community of users, plus get the opportunity to enjoy this year's glorious Canberra summer weather!
FieldData Training Course:
Day 1 – Basic Administration of the FieldData software, Day 2 – Advanced, Day 3 – For Developers.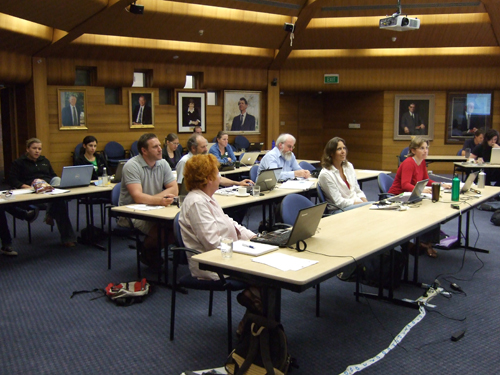 The course featured slides and talks, live demonstrations of the site and hands-on practise in setting up 'mock-up' versions of the FieldData portal for entry of ad-hoc and survey material.
The course material covered:
Where the FieldData software fits into the Atlas infrastructure
How this set of integrated tools can be used to help meet your organisational field data capture, information management and community support goals
Using the software:

Understanding how your requirements can be met using the software
Setting up a FieldData site for your organisation
Registering and managing users
Creating field guides and profiles for species of interest in your local area
Creating survey and activity tracking forms to log sightings and other information
Uploading existing data into your site
Viewing your data online in your site and in the Atlas itself (Great Eastern Ranges regions example)
Downloading data for further analysis and reporting in other tools

How to add your own look and feel to the site – theming
Futures – where we can go together from here
The course concluded with a short excursion by the Fungimap participants to photograph a colony of Deathcap mushrooms.
More on the recent outbreak of Deathcap mushrooms in Canberra »
Using the FieldCapture tool in the great outdooors
It was especially interesting to learn about the attendees wide-ranging plans for using the FieldData tool to meet diverse needs.
Its not just about recording sightings of birds, frogs, plants, fungi … Current portal projects – Feb 2012 (PDF 59KB)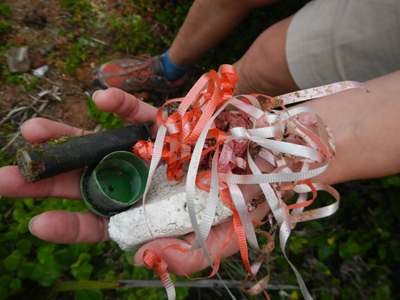 The TeachWild group sponsored by Shell, Earthwatch Australia and CSIRO is using the FieldData tool to track marine debris – which includes plastics, fishing lines, you name it – junk that is not meant to be in our marine environment – as well as tracking coastal and marine wildlife.
"All the data collected is included on a national debris map overlaid with wildlife distribution patterns for marine species such as birds, fish and turtles, allowing researchers to pinpoint the type of rubbish most dangerous to particular species".
Dr Denise Hardesty, TeachWild
Read about the recent launch of the TeachWild Marine Debris portal in schools »
The Atlas of Life in the Coastal Wilderness (ALCW) is also about to put the FieldCapture tool through its paces. On the 30 and 31 of March 2012, the ALCW is holding a 'Bioblitz' for recording as much biological data as they can possibly find over a period of two days in sites around coastal Bermagui in New South Wales. Learn more about the ALCW and join the upcoming Bioblitz »
CSIRO researchers are also using the FieldData tool to involve the community across the range of Yellow Box (Eucalyptus melliodora) to collect seed and record information about seed trees and their local environment for a species resilience study. This is involving the non-science community in significant real scientific research work.
Several natural resource management (NRM) groups are also using the FieldData tool for recording their various group activities including community events and on-ground works. This will enable them to better track and manage their activities and report on activities and outcomes far more easily and accurately than has ever been possible before.