Fungimap is one of the largest citizen science groups in Australia and – with over 100,000 fungi records available online– is the biggest single contributor of fungi records to the Atlas of Living Australia (the Atlas).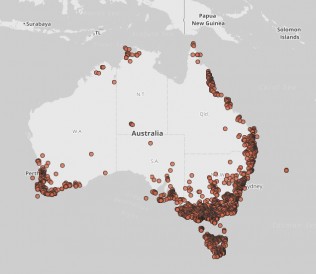 Fungimap uses information gathered by volunteer observers across Australia, from professionals to amateurs, to map the distribution of target species of Australian fungi. The target species have been selected for their relative ease of identification and the fact that they are generally widespread.
Fungimap was founded by Dr Tom May, a Senior Mycologist at the Royal Botanic Gardens Melbourne, and has been bringing together fungi enthusiasts from all over the country since its humble beginnings in 1995.
"When I had the idea for Fungimap, I thought that a handful of field naturalists would contribute, and the mapping scheme would run for a couple of years," Dr May said. "Almost 20 years later, more than 100,000 fungi records have been submitted, from almost 1,000 people and organisations from around Australia."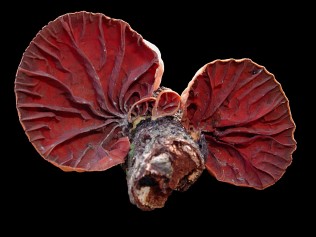 Although Fungimap has been around for 20 years, it's only recently that these important fungi records have been made readily available to a wider audience. Support from the Atlas in 2012 enabled Fungimap data to be delivered to the Atlas.
The Atlas funding also facilitated the incorporation of major data sets from individual fungi collectors – such as Genevieve Gates and David Ratkowsky, whose observation records number in the tens of thousands – into the Fungimap database, and on to the Atlas.
The collaboration between Fungimap and the Atlas continues, with the Atlas recently providing additional support for Fungimap to deliver a further 5000 observation records, along with images of 250 taxa. These additional records and images will help fill gaps in the fungi data available in the Atlas, benefitting both Fungimap members and the wider community.
"Having the Fungimap data in the Atlas is fantastic for the Fungimap community," says May. "It's rewarding for members to be able to easily view their own records, and the maps help identify gaps in fungi observations, which encourages people to go and look for more."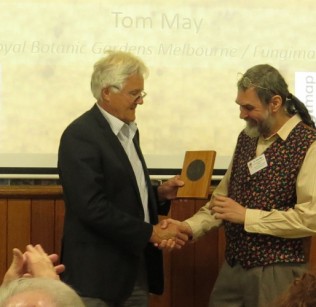 May's – and Fungimap's – contribution to the understanding of Australian fungi was formally recognised late last year when May was awarded the 2014 Australian Natural History Medallion by the Field Naturalists Club of Victoria.
The Australian Natural History Medallion is awarded each year to the person judged to have made the most meritorious contribution to the understanding of Australian Natural History. Dr May's contribution stems not only from his crucial role in Fungimap, but also from his scientific research at the National Herbarium of Victoria.
If you are interested in fungi, you can contribute to the Fungimap project by sending in records of any fungus you come across, either at home or in your travels. As so little is known about Australian fungi, all contributions are very valuable, even if you only learn to recognise a couple of species.
If you want to learn more about fungi, you might like to attend the Fungimap 8 Conference in April 2015, which will focus on building up people's knowledge of macrofungi. Each day of the conference, participants will get out in the bushland around Batemans Bay to look for fungi, learn about them in their natural habitat, and make observation records that will be contributed to the Atlas.