Over the last 12 months – and to coincide with the UN International Year of Indigenous Languages – the ALA has been working with knowledge holders from the Kamilaroi nation (north eastern NSW and south eastern Queensland), researchers at CSIRO Land & Water and environmental consultant Michelle McKemey from Melaleuca Enterprises to map 683 Indigenous plant and animal names (in three related Kamilaroi languages: Kamilaroi/Gamilaroi/Gamilaraay (alternate spellings of one language), Yuwaalayaay and Yuwaalaraay) to Latin species names in the ALA.
Names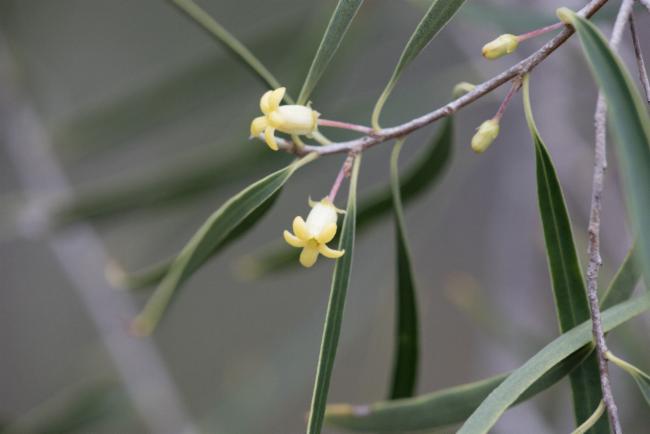 Names are the building blocks of the Atlas of Living Australia. The lists, hierarchies, and taxonomy (names and classification) of species information, and in particular the names list, form the foundation of our database. Western biological science is built on a naming system that assigns one unique name for each species, this is a Latin scientific name e.g. Osphranter rufus (Red Kangaroo). These Latin names are used throughout the global scientific community and are the basis of a common language for Western science.
Indigenous names for plants and animals are often built around their purpose and/or their relationship to other plants and animals. Names are a part of a greater story that carries the knowledge of the plant or animal – for example, what it is, what it is used for, when it is used, who can use it and what it is related to.
In Western science knowledge systems, our scientific names are unique, one name for one organism. In Indigenous knowledge systems, one organism can have many names, one for male or female, young or old, fruiting or flowering. The taxonomy or grouping of organisms is also quite different – Western science tends to group organisms based on their structure while Indigenous knowledge may group on their purpose or relationships to others. Here lies a challenge to bring these two knowledge systems together.
Indigenous ecological knowledge
Indigenous ecological knowledge is based on thousands of years of knowledge about our plants, animals and environment. It is a rich and nuanced understanding of local and regional ecosystems and environments. This knowledge has been passed down through thousands of generations by the knowledge custodians through narration, demonstration and life experience, and is now also shared through books, websites, social media and apps. Where this knowledge can be more widely shared, it provides opportunities to extend and validate Western scientific knowledge.
While there has been great ongoing interest in Indigenous ecological knowledge in relation to bush tucker and bush medicines, understanding Indigenous land management practices extends our ability to work within and live in our diverse environments. Less obviously, IEK also provides ecologists and researchers interested in climate change, information on the past and current state of our environment, for example, flowering times, fruiting times, migration patterns and changes to these events over time. This information can be used to enhance Western science observations and thinking.
This extension and comparison of knowledge can only be done if we know we are talking about the same things. This means names are essential to link Indigenous knowledge to Western science knowledge.
The Indigenous Ecological Knowledge Names Project (IEK Names Project)
This project is an integral part of the Indigenous Ecological Knowledge Program (IEK), whose primary aim is to promote Indigenous ecological knowledge. The IEK Names Project does this by including Aboriginal and Torres Strait Islander names for plants and animals in the ALA's systems – to link Indigenous ecological knowledge with the ALA's significant holdings of occurrence data, images and other information for these species.
The initial phase of this project was also something of a pathfinder for the ALA to understand how to ethically and respectfully engage with Indigenous people and communities, to build a technical solution for incorporating IEK knowledge into the ALA's systems. This involved ensuring the ALA worked with Indigenous language custodians, who in turn ensured the community agreed to the knowledge being published on the internet. Within the ALA the Indigenous knowledge is attributed to the community and showcased alongside Western scientific knowledge, while also linking to other publicly accessible authority sources, such as AIATSIS language codes.
The work is a collaboration between Aboriginal and Torres Strait Islander peoples, the ALA and CSIRO Land and Water. This first phase was specifically with the Kamilaroi nation and worked with the language custodians: Harry White, Rhonda Ashby, Bernadette Duncan and Ted Fields Jnr.
This collaboration resulted in the three Kamilaroi languages (Kamilaroi/Gamilaroi/Gamilarray, Yugaalaraay and Yugaal) being the first Aboriginal and Torres Strait Islander languages included in the ALA.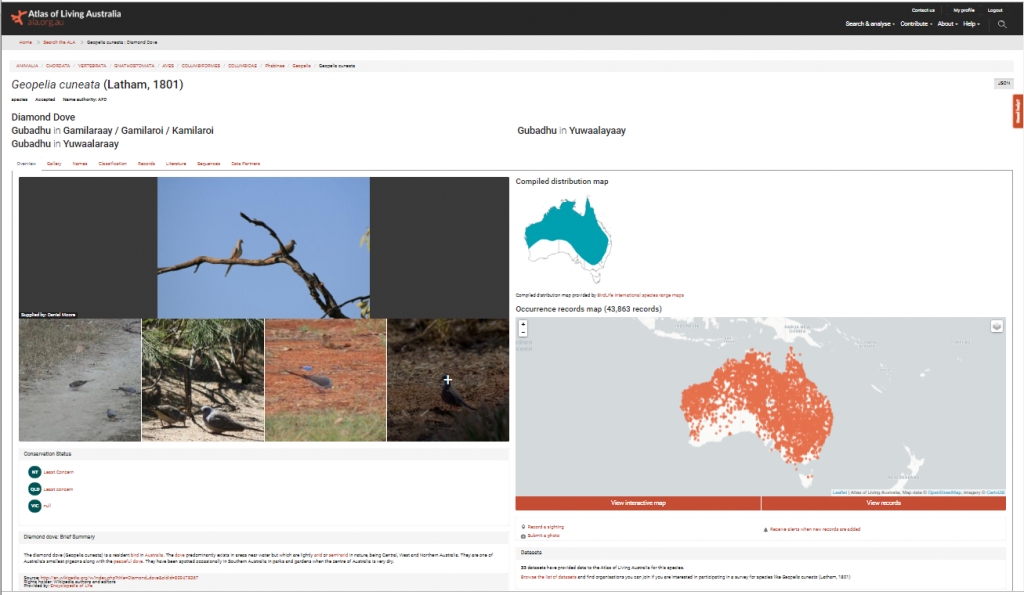 Challenges
On the surface, it sounds relatively simple to map language names against Latin names however there were many challenges along the way.
Often there is not a direct one-to-one relationship between an Aboriginal language name and a Latin name. Kamilaroi people sometimes have more than one word for a species, and unique names for different parts of an organism. In addition, one community can speak more than one language, so it's possible for one species to have several names, across numerous languages, within one community.
The Kamilaroi nation is the first to have its languages included in the ALA. The four language custodians: Harry White, Bernadette Duncan, Rhonda Ashby and Ted Fields Jnr worked with an environmental consultant Michelle McKemey to collect and check a set of 683 names for 304 unique species. This included photos of some of the plants and animals with recordings of how some of these names are pronounced.
The other big challenge involved permissions and ownership. In this digital age, where information is open and shared across multiple platforms, it is much harder to define the audience, the reach and the longevity of the information and therefore much harder to pin down the parameters of permissions and copyright. Providing permissions for sharing information for the purposes of one research article or book, is far more straight forward than providing permission for the information to be freely accessed online, across multiple platforms and different formats, for an ongoing or indefinite period.
"Discussions around permission and copyright of Indigenous knowledge are complicated and really important to get right. The Aboriginal people we are working with want to control what information is shared, how it is shared and how it is made public."
"Together with the four Kamilaroi language custodians (Harry, Rhonda, Bernadette and Ted Jnr), we've worked through important considerations such as permission and approval to publish these words, raising awareness of the project within the community, the longevity of the project, and potential misuse or misinterpretation of information," said Nat.
Project impact: 683 Kamilaroi names and rising
There are now 304 species in the ALA with Kamilaroi names. Names are from the Yuwaalayaay, Yuwaalaraay and Gamilaraay / Gamilaroi / Kamilaroi languages. This set of names includes native plants, mammals, reptiles and amphibians, birds and some introduced species.
"It is significant that we've been able to link Indigenous and Latin names in the ALA. We've laid the first building blocks for further work to allow information and knowledge to be shared and extended across both Indigenous and Western ecological knowledge systems," Nat said.
Having worked through the technical issues of mapping the names as well as issues around licencing and ownership, more names and more languages can now be added. Not all Indigenous communities are the same, this includes the governance structures around knowledge and knowledge sharing. So, while the ALA has successfully integrated one group of Indigenous languages, and this does lead the way for others to follow suit, there are still many challenges with the many hundreds of other languages to be included.
"The inclusion of Aboriginal and Torres Strait Islander languages in the ALA means the ALA is a more complete database of our Australian ecological knowledge, it introduces the ALA to more Indigenous people across Australia who are using it in schools and for ecological management and it shows the depth of Indigenous ecological knowledge to all ALA users. In all of these ways, we are achieving our goal of promoting Indigenous ecological knowledge," said Nat.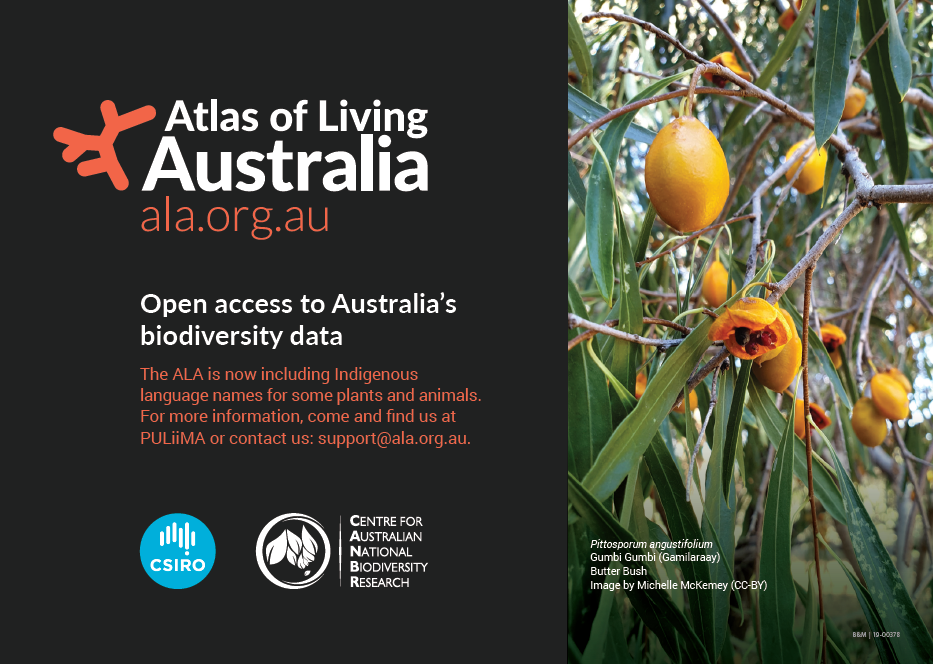 Next steps: more languages and more communities
Our next steps are about getting more languages and communities involved in the ALA.
In September, we presented at PULiiMA, the Indigenous Language and Technology conference, with Bernadette Duncan and Rhonda Ashby. These Kamilaroi language custodians are both highly regarded across Australia for their long years and persistence in language work. This collaboration at PULiiMA led us to meet many Indigenous people who are interested in working with us to increase the number of languages included in the ALA.
We have also formed a strong working relationship with First Languages Australia, an umbrella organisation that helps facilitate links between government and research organisations and Indigenous community language custodians and workers.
The ALA is also working with Linda Broadhurst from the Centre for Australian National Biodiversity Research (CANBR) who is working to map Indigenous names to species in our national Herbarium collection. Linda is working closely with the ALA and First Languages Australia to find a solid and respectful path to collaborate with Aboriginal and Torres Strait Islander people to include Indigenous names for plants in the national herbarium, the ALA, and science and technology in general.
Central to Linda's project is the requirement for both a language custodian/speaker/knowledge holder and a scientist/ecologist/biologist to be working together in the field to avoid misinterpretation and misinformation.
This project aims to map Aboriginal and Torres Strait Islander names to Latin names for large numbers of the plant species held in the national herbarium, and ensure this information can be published and shared across multiple systems, including the ALA.
ALA's Indigenous Ecological Knowledge program's other projects
Over the last five years, the ALA has been working with Indigenous communities and knowledge brokers to improve the relevance of the ALA website and software for Indigenous people.
Some of the improvements include:
Addition of specific spatial layers to the ALA's mapping and analysis tools, including 2016 Indigenous Protected Areas, Indigenous Land Use Agreement areas, Representative Aboriginal and Torres Strait Islander Body areas.
Creation of IEK Profiles to store and share Indigenous ecological knowledge about plants and animals. Currently IEK Profiles from two communities – Yugul Mangi Rangers in South East Arnhem Land and Olkola from North Queensland, have IEK Profile collections underway.
Changes to the Species Profiles app to improve multi-media uploads and useability.
A new multi-lingual app – The Tracks App – developed with the Central Land Council to help rangers track animals. Languages include Warlpiri and English, with opportunity to add more languages.
For more information, read about ALA's Indigenous Ecological Knowledge program.