Across summer 2022-23, the ALA hosted two Indigenous Internship students as part of the National Collections and Marine Infrastructure (NCMI) Indigenous Scholarship Program. Celebrating International Women and Girls in Science Day, we're profiling Caitlin Ramsay! Caitlin joined the ALA Science and Decision Support team during her internship, where she investigated the distribution of invasive species across Australia over time.
We chatted with Caitlin to find out more about her project through the Atlas of Living Australia.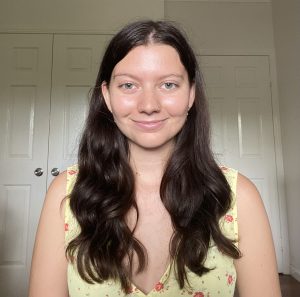 Q: What degree are you currently studying, and what made you study science?
I'm in my last term studying a double degree of Bioinformatics Engineering and Ecology at UNSW. At first, I wanted to go straight into work once I finished my undergraduate degree, but now, I'm considering completing either a Masters or PhD in something related to environmental science. I've always had a strong connection to the land and ocean as well as a curiosity for the natural world. It became clearer to me as I got older that an environmental science degree would foster these values of mine and potentially let me make an impact.
Q: What made you apply for the Indigenous Studentship Internship program?
I heard about ALA internships from some friends at UNSW who participated in another internship program. From there I investigated whether the ALA offered internships over the summer and stumbled upon the Indigenous Studentship program. I applied because I wanted to see what it was like to apply the skills I've learned at university in industry.

Q: What did your ALA internship project focus on?
My project focused on invasive species and how they have moved around over time. At first, I was interested in species' ranges shifting as a way to cope with climate change. This then led into this idea of changing species distributions and how quickly invasive species can spread within Australia. I also helped with the galah python package development which involved writing tests, finding bugs and helping to design its website.

Q: What was a new skill that that you learned through the program that you're proud of and what were some challenges that you faced during your project?
Coming into this internship I had never really done any data visualisation before. Now I feel like I have a pretty good grasp on how to code figures in Python and have been able to produce some aesthetic plots that I'm super proud of. While coding my data visualisations, I ran into a lot of bugs which is always challenging as sometimes it would take an entire day to try fix. I also was using Python to make data visualisations while the rest of the team predominantly used R. This meant I had to figure out a lot of the bugs on my own which was challenging but also a useful skill to develop.

Q: Tell us about your highlight of the internship program?
The highlight of the internship for me would definitely have to be the people I worked with. They were all so amazing and friendly and just made my experience here so fun that I'm a bit sad to be leaving!
Congratulations Caitlin on successfully completing your project with the ALA! Check out some of the incredible data visualisations Caitlin produced through her project using the ALA galah Python package.