Former teacher and CSIRO's Indigenous STEM Program Coordinator Geoff Guymer has a wealth of experience teaching in classrooms across Australia and loves using the ALA. This article outlines how he used the ALA in a Year 8 classroom, in Victoria, to help teach classification.
Using his experience working in remote communities in the Northern Territory, Geoff gave the classification activity a local Indigenous focus. This way, the activity fulfilled curriculum requirements for both science and the Aboriginal and Torres Strait Islander Histories and Cultures cross curriculum priority – and made it more interesting for students.
Firstly, to learn about binomial classification, the students were asked to use the ALA to investigate, and identify to species level, at least 12 different plants in the school yard. They took a number of images and some plant samples were pressed and presented like authentic herbarium specimens.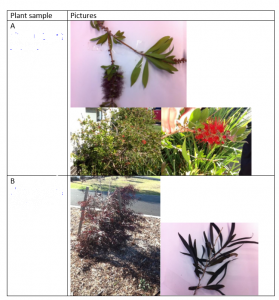 With the guidance of Boonwurrung Elder, Auntie Fay Stewart-Muir, and researching the ALA and other online resources*, the students found local Indigenous names and traditional uses for many of the plants that they identified, as well as other plants that are indigenous to the area. They learned which of the trees in the school yard would be best for carving boomerangs and the useful properties of some grass species. They also learned that some flowers that grew nearby were used to make sweet drinks.

For the final part of the activity, students learned about dichotomous keys, then constructed one to organise the 12 plants they identified. They took their dichotomous key to other classes to see if it could be followed to identify the plants successfully.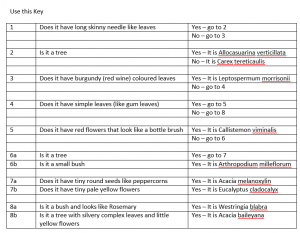 "This was an excellent activity to run in the classroom. The students learned a lot about how to describe various characteristics of the plant such as leaf shape and leaf arrangement."
"Knowing the difference between simple and compound leaves is important to know when following keys that taxonomists use when identifying plants. They also learned that it is important to use characteristics other than flowers for identification," said Geoff.
Another ALA classroom activity developed by Geoff is outlined in Using the ALA in the classroom to celebrate traditional knowledge and culture.
If you use the ALA in your classroom and would like to share your story, please contact Taryn Johnson, ALA's Education Officer.
*references –
Got, B. & Nola, N. (1992). KOORIE PLANTS KOORIE PEOPLE: Traditional Aboriginal Food, Fibre and Healing Plants of Victoria. Koorie Heritage Trust, Melbourne, VIC.
Kuranga Native Nursery Pty Ltd. BUSH FOODS: Edible Plants from the Greater Melbourne Area.
Aboriginal Use Plants of the Greater Melbourne Area, David De Angelis La Trobe University Environment Collective 2005