The ALA's core infrastructure upgrade project will replace the Atlas of Living Australia's occurrence data core systems.
The new infrastructure will be fit-for-purpose, more maintainable and able to adapt to our future needs as Australia's national biodiversity. System improvements will enable the ALA to manage increases in data volume and different types of data. ​
Throughout the project we will be working closely with the Global Biodiversity Infrastructure Facility (GBIF) and collaborating on a shared codebase.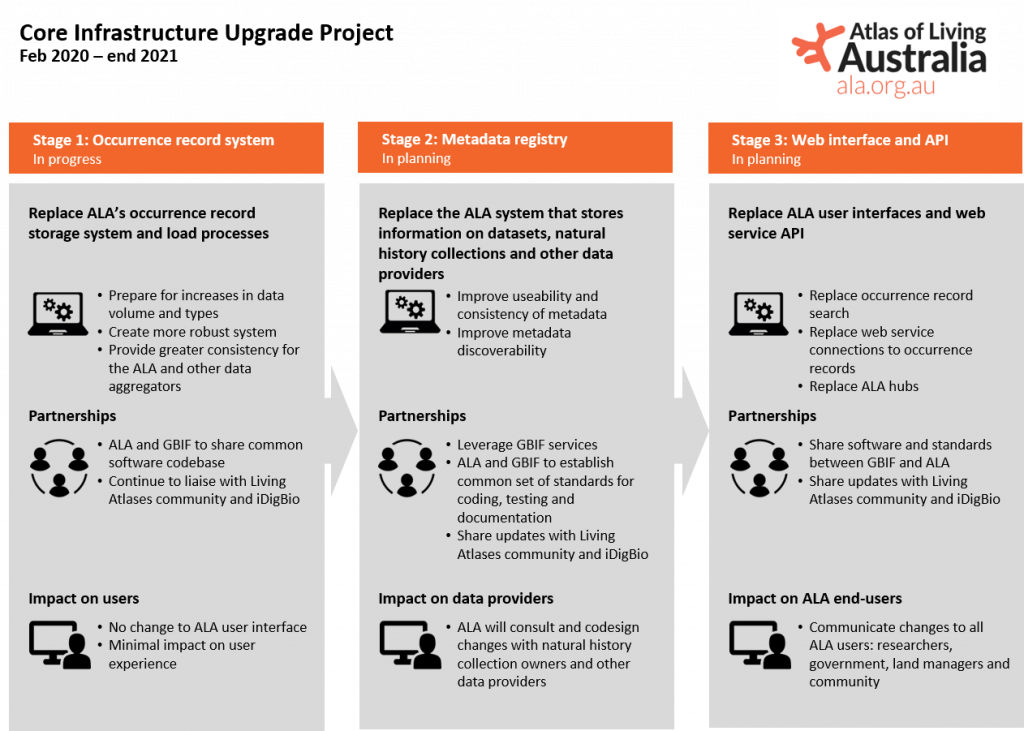 For more information, please contact support@ala.org.au.
Core Infrastructure Upgrade Project
Stage 1: Occurrence record system
In progress
Replace ALA's occurrence record storage system and load processes
Prepare for increases in data volume and types
Create more robust system
Provide more consistency for the ALA and other data aggregators
Partnerships
ALA and GBIF to share common software codebase
Continue to liaise with Living Atlases community and iDigBio
Impact on users
No change to ALA user interface
Minimal impact on user experience
Stage 2: Metadata registry
In planning
Replace the ALA system that stores information on datasets, natural history collections and other data providers
Improve usability and consistency of metadata
Improve metadata discoverability
Partnerships
Leverage GBIF services
ALA and GBIF to establish common set of standards for coding, testing and documentation
Share updates with Living Atlases community and iDigBio
Impact on data providers
ALA will consult and codesign changes with natural history collection owners and other data providers
Stage 3: Web interface and API
In planning
Replace ALA user interfaces and web service API
Replace occurrence record search
Replace web service connections to occurrence records
Replace ALA hubs
Partnerships
Share software and standards between GBIF and ALA
Share updates with Living Atlases community and iDigBio
Impact on ALA end-users
Communicate changes to all ALA users: researchers, government, land managers and community