Let's explore what's in your area
Let's explore what's in your area
By Robyn Lawrence
 February 1, 2011
 Tags: 

Blogs & news

Citizen science
By Robyn Lawrence, Atlas of Living Australia
Each newsletter we will highlight a feature of the Atlas of Living Australia website.
This time we have chosen to talk about the Explore Your Area search tool.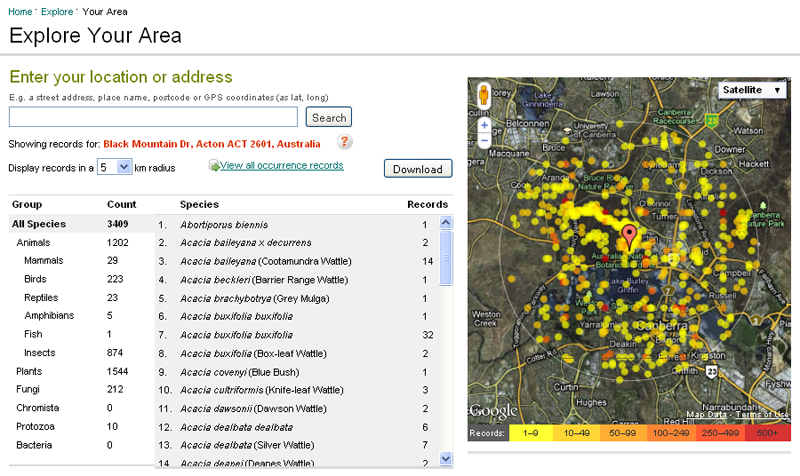 Explore Your Area shows what species occurrence records (observations or specimens) the Atlas has for your chosen location. Currently the Atlas has 23 million records, but it is growing all the time. You can contribute your own personal sightings to help further populate the Atlas. See About Sharing »
Type in your home address, your school, your local nature reserve. Even try landmarks like Parliament House. Google's street view lets you visualise where the species was found, if located alongside a road.
When you are going on holidays, down the coast, somewhere new it might be useful to know what you could discover, walking on the beach, looking behind the bushes …
The Explore Your Area search radius can be set to 1, 5, 10 kilometres.
The dots on the map are records found at that location. The colour varies to indicate the number of records. Bright yellow being the lowest, red being the highest. Threatened species or other types of sensitive species do not have their exact location given. The location is generalised within a predetermined range.
You can choose to look at one of the broad species grouping like birds, plants or fungi. The listing of the unique species with their record count and the dots on the map will change to reflect the chosen group.
You can download a spreadsheet listing of species known in your area. Remembering, of course, this list only reflects the data the Atlas holds at the present time. It is not a list of all possible species.
Here are the simple steps to discover what's near your home:
visit www.ala.org.au
click on Species by location, then Explore your area, then and type in your home address
choose a search radius of one, five or ten kilometres
the Atlas' Biocache (database) is queried and the records in your area are returned
you can retrieve a reduced set of records, by selecting a species filter
(on the LHS under the Group heading, click on your species grouping of your choice e.g. Birds, Fungi)
Once you have retrieved your records, you can additionally:
download the full recordset in a spreadsheet
examine records by going to "View all occurrence records"
examine one or more records by clicking on a dot on the map
zoom into the map for more location detail, or change the style of map
Or just try it out – it's easy!
Go to Explore Your Area »