The ALA Data Quality project team is working hard to complete and release its first piece of software. But there's still time to test and provide feedback.
Since the Data Quality Project launched in February, the team has been working with the ALA user community to identify data quality issues and develop solutions.  Thank you to everyone who has completed our surveys, contributed to baseline perceptions of data quality, helped to prioritise issues, or tested solutions so far. 
First proposed software release – improvements to data filters
In response to issues identified in our data quality survey (see below), the project team are developing a new capability to pre-filter search results. This means lower quality records will not be shown unless they are actively included. 
The new software will enable users to switch filters on or off and manage them as a group or individually. Information is available on the fields and data that make up the filters through mouse-over text and clickable info icons (i).
We are still testing the new software and welcome your feedback.
How to test the software
Sign in to our ALA Test Environment.
View the filters in the new user interface (UI) element above the search results. 
Interact with the filters, noting how they work for you.
Email any comments or feedback to dataquality@ala.org.au.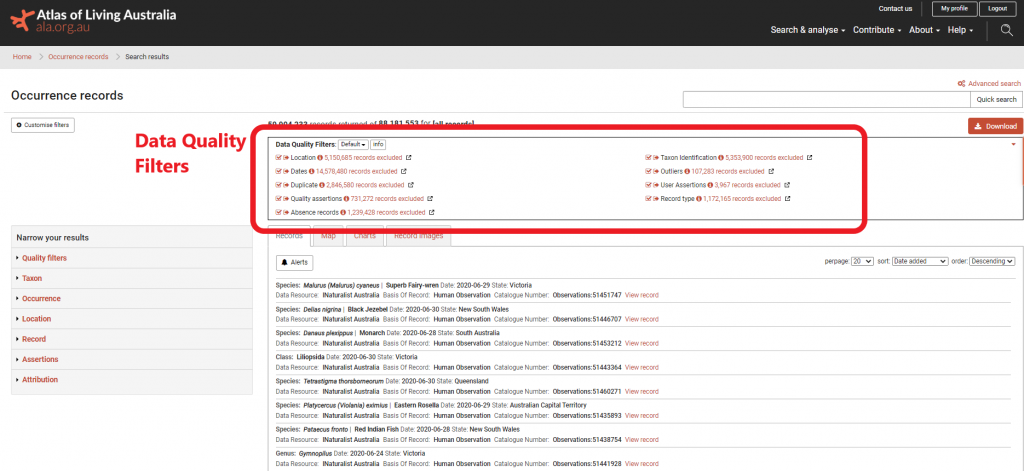 Prioritisation survey results
After establishing a baseline for perceptions of data quality (see results), we conducted a prioritisation survey. This helped to identify which issues the data quality project should address first. The top two issues identified were: 
ALA users are using data accessed via the ALA without filtering out records that are not fit for purpose. 
Due to data quality indicators not being present, users are often unsure whether to use particular records or datasets. 
For more information on the data quality project please see the Data Quality project page or contact us at dataquality@ala.org.au.