iNaturalist Australia, the Australian node of the global biodiversity platform, launched this month and is now integrated with the Atlas of Living Australia.
iNaturalist Australia greatly improves the ALA's ability to enable users to upload sightings and identify species. It provides an Australian gateway to iNaturalist for people to share findings with biodiversity-loving people across the globe.
You can upload observations on iNaturalist Australia at http://inaturalist.ala.org.au on your desktop or using the iNaturalist app on your mobile device (download from App store or Google Play).
All iNaturalist Australia records are fed into the ALA regularly. If you previously uploaded sightings to the ALA you can link your accounts and see all your ALA and iNaturalist records in the ALA.
There are already over 10,000 iNaturalist users in Australia and the ALA has been receiving data feeds from iNaturalist for a while. So, to celebrate the launch of iNaturalist Australia, we caught up with three Australian iNaturalist 'super users' and asked them to share their iNaturalist experiences.
Entomology enthusiast and iNaturalist user, Karen Retra, helps identify rare Velvet Ant at home among the Red Gum trees
During a Trust for Nature ecological assessment on private land in north east Victoria, the conservation team looked under some loose bark and found a scorpion sitting next to an unusual insect they hadn't seen before.
Keen to identify exactly what they had found, the conservation team contacted Karen Retra, a local naturalist. Karen also didn't know exactly what they were looking at and quickly recommended posting the observation on iNaturalist in order to harness identification expertise from entomologists around the world.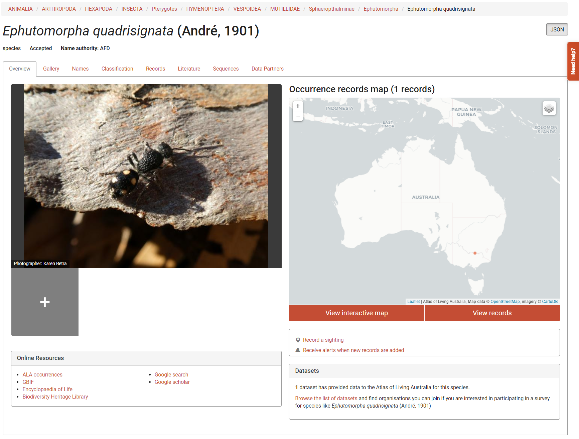 Within days, a US-based entomologist identified the little critter as Ephutomorpha quadrisignata, a member of the Velvet Ant family, and previously unrecorded in Australia. The iNaturalist crowd-sourced identification system requires two people to confirm the identification before it reaches 'Research Grade'. Soon after the first Velvet Ant identification was proposed, it was confirmed by a renowned Velvet Ant expert, South African Professor Denis Brothers.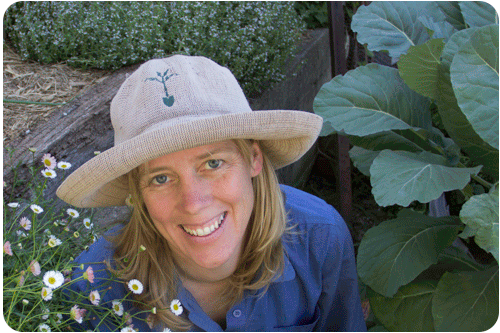 "This is a really exciting find. It's the first record of E. quadrisignata in iNaturalist and it is also the only record of the species in the Atlas of Living Australia," Karen said.
Karen is a keen naturalist with an interest in pollinator insects (particularly native bees) as well as living sustainably and conserving natural habitats in north east Victoria. She has been uploading observations to iNaturalist for the last year and has over 400 observations for over 200 different species.
Read more on the Trust for Nature website: Boorhaman discovery is the ant's pants
Ralph Foster, Ichthyologist with the South Australian Museum, joined international effort to identify a giant Hoodwinker Sunfish far from home
In February 2019, iNaturalist made international headlines when images of the first Hoodwinker Sunfish (Mola tecta) to be seen in North America were shared and identified via iNaturalist. This story shows the power of iNaturalist's widespread community of keen observers and expert identifiers.
It all started when Tom Turner, Associate Professor in Marine Biology at the University of California, Santa Barbara, found an enormous fish washed up on beach and uploaded pictures to iNaturalist. Two iNaturalist users with significant expertise on sunfish then joined in the story; Ralph Foster, an expert in the diversity and distributions of fishes in southern Australia, and ichthyology Collections Manager at the South Australian Museum; and Marianne Nyegaard, marine biologist at Murdoch University in Western Australia who first named Mola tecta (Hoodwinker Sunfish).
Ralph had an alert set up in his iNaturalist account for Mola genus so he was notified about the sunfish observation when it was uploaded. He was very surprised to see this fish was in California because it is usually only found in the southern hemisphere. He decided to tag Marianne Nyegaard to help with identifying the fish. Marianne wasn't able to confirm the identification from the supplied image because the key features were not clear. So then, Ralph asked Tom (the original observer) if he could take some more pictures. However, in that time, the sunfish had washed away.
In a brilliant twist to the story, two days later the fish washed back ashore, Tom was back on the beach uploading more pictures, and the quest to identify the giant fish was back on. Within days iNaturalist's international community confirmed this was a rare sighting of Mola Tecta.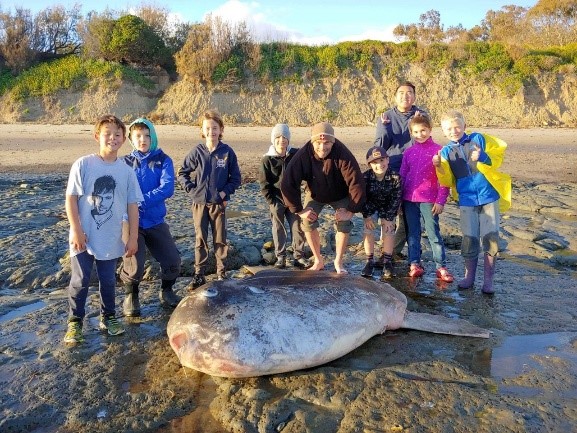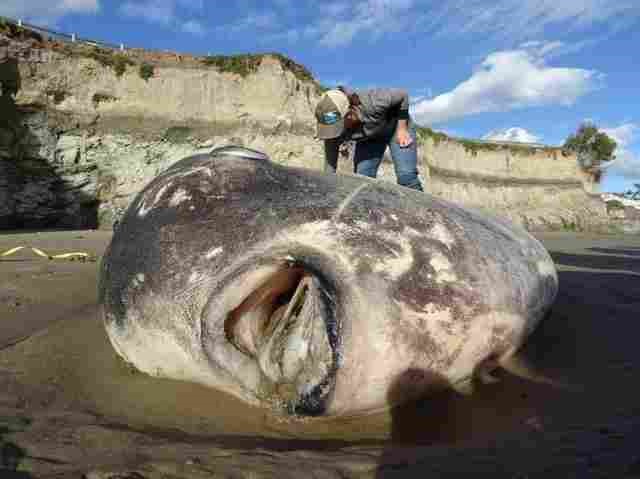 "[This fish has] never recorded from US waters before and it's quite a feather in iNat's cap because without it, this would likely have passed unrecognised. To be able to rapidly arrange for a re-examination of diagnostic characters on the specimen, from halfway round the world, and have them reported back in real time is fantastic," said Ralph. Ralph has over 2,300 observations on iNaturalist, for over 500 species and has helped to identify over 26,000 observations, yes 26,000.
For more information about the incredible Hoodwinker Mola story, read:
Donald Hobern, inaugural Director, Atlas of Living Australia, and lifelong naturalist                                                 
Donald Hobern has a long history with the ALA. He was our inaugural Director, overseeing the early development of Australia's national database and web portal for biodiversity data from 2007 to 2012. He went on to become GBIF's (Global Biodiversity Information Facility) Executive Secretary and has recently moved back to Australia from Denmark to be Executive Secretary for the International Barcode of Life Consortium.
Donald is a specialist in the mobilisation and use of free and open biodiversity data, and an advocate of the ALA. However, today we're going to focus not on his career achievements but on his lifelong role as an amateur naturalist and his early adoption of iNaturalist. With 16,079 observations listed in iNaturalist, covering over 3,800 species he is most definitely a 'super user' and he kindly talked to us about his experiences with iNaturalist.
We know you are a keen contributor to iNaturalist, can you describe how you use it and what features you like the best?
"I've always been a keen naturalist. I've been keeping a diary of my observations of the natural world since I was little. First, in the form of physical collections and notes, drawing and labels, then I embraced digital photography and was an avid user of Flickr. It was a natural progression for me to start using iNaturalist. Since around 2014, I've been using it for all of my personal observations."
"I use iNaturalist as my visual diary – it's perfect for this. I can document the things I see, look back at when I saw them and where they were. It also helps me keep track of the first instances of things, like the first time I saw a particular species, or the first of a family I'd seen in a certain location."
Do you have a particular family or genus of interest, or are you an all-inclusive naturalist?
"When I was young, I was very keen on birdwatching and also developed a keen interest in beetles and moths, but it was very difficult to explore lesser known groups. The digital revolution has really changed amateur natural history. And now, I like to keep track of all organisms I see, at home and as I travel. I have a good collection of casual observations of plants, fungi, birds and Australian mammals."
"I'm definitely no expert but I often help with identifying species in a few families of moth hoping to move observations to Research Grade. I'm less familiar with beetles, I will often identify to family level, and then the crowd will help me identify to species level."
What do you like most about iNaturalist?
"For me, iNaturalist brings together all the features I need and it's easy to use, and it's great to feel part of a larger international network of enthusiasts and experts. It's fabulous to have input from a world-renowned moth expert living in Europe or South America on an observation I saw in country New South Wales. There is a long history of amateur naturalists making significant contributions to western science and iNaturalist enables this."
"I'm also really interested in how iNaturalist is using machine learning for image recognition and to assist with identification. Artificial intelligence (AI) and computer vision helps identifications get closer quicker. I'd like to see more details about this in the metadata so that users are aware if the initial ID was established due to AI and computer vision. I am a biodiversity data specialist so I always want more information about the data!"
Can you explain why you like to record your observations of the natural world?
"Amateur natural history helps us get a view of our biodiversity that's hard to get through research sampling methods or government surveys."
"Many of us believe we're seeing a collapse in insect populations – less variety and less quantity of insects – but it is difficult to know for sure without the data. Human observations are a great way to understand this further and to monitor changes over time. Through recording observations we can contribute to the pool of data that will help the broader scientific community lay down a baseline so we can understand the changes that are happening now, and that have happened over time."
Do you have a favourite observation?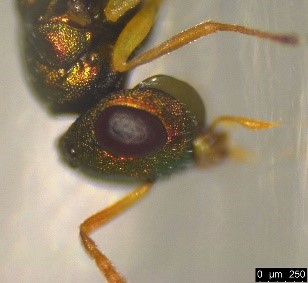 "Yes, but it's not an Australian one, it's from Denmark. I picked up a tiny wasp from a leaf and was amazed to be able to key it out (Halticoptera laevigata) AND to see how this wasp kept pushing the enormously swollen base of its maxillary palpi out from the side of its head (that's the sickly green disk you can see in the image) AND to find that there was no record of the species having been recorded previously in the Denmark (although it occurs in Germany and Sweden)."
Finally, do you have any tips for new iNaturalist users?
"If you're uploading multiple images at a time, make sure your camera is in the right time zone so that the correct date and time data is entered automatically when you upload the image – this saves a lot of time."
For more information about the launch of iNaturalist Australia read: