A new paper released today in Biodiversity Data Journal written by Lee Belbin, Ely Wallis, Donald Hobern and Andre Zerger maps out the ALA's past, present and future.
"The ALA was really a front-runner in the biodiversity data space. Early and ongoing investment from the Australian Government National Collaborative Research Infrastructure Strategy was timely and has had a lasting impact on how biodiversity data are managed and accessed on a global scale." says ALA Director Dr Andre Zerger.
"We thought it was time to document this history and achievement and I believe this paper will become a critical reference for the international biodiversity data community."
Looking back – our origin story
Let's set the scene – it's the late 1990s. You are a taxonomist trying to find specimen data for a research project. To find this information you must personally contact managers of collections, undertake formal loans of specimens from many museums, or travel across the country and internationally to get access to where specimens of interest have been recorded. After months of letters, emails and phone calls, you're finally able to analyse the data and start your research.
This is a process that was kept on repeat for decades. Finding and accessing biodiversity data was a major challenge, it wasn't accessible or shared between organisations.
By the mid-2000s, the research community saw opportunity in emerging digital technologies and significant collaborative initiatives were underway to start to share data. Cue the review of national research infrastructure. The findings of this review led to the Australian Government accepting the proposal of the natural history collections community – to build on the collaboration already well advanced to create a single online platform that would harmonises all existing databases.
In May 2006, 25 representatives from across biological collections met at the Australian Museum in Sydney. Here, the group identified the significant benefits of an aggregated database and the Atlas of Living Australia was formed.
Here we are now – Australia's national biodiversity database
Flash forward to the present day, we now successfully aggregate and harmonise biodiversity data from not only museum and herbarium collections, but government departments, research institutions, Indigenous knowledge holders, community groups, universities, and individuals.
In 2020, we celebrated our 10 years of making biodiversity information accessible to all. Our celebrations were particularly focussed on thanking the founding partners and biodiversity data providers that helped us reach where we are today.
In the 10 years since our launch, we have achieved many milestones and enabled impact across the globe. There are now more than 90 million occurrence records of 110,000 species, 5000 species lists, 2000 biodiversity-related projects, 500 environmental layers. We have also enabled a number of biodiversity data portals by making the underlying ALA code openly available.
We have also taken a leadership role globally through the Living Atlases program. There are instances of ALA software delivering national biodiversity capabilities in 24 countries around the world.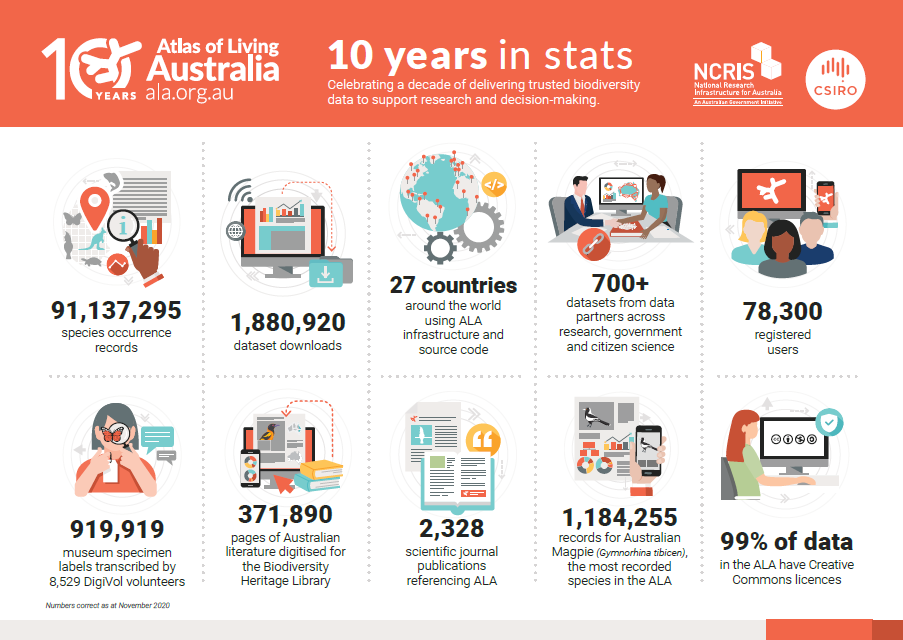 What does the future hold?
Following our Future Directions National Consultation process in 2019, we began to shift our focus to the new challenges ahead.
The consultation process highlighted how far the ALA has come and the impact we have had on the way Australian biodiversity data are utilised. However, the consultation also highlighted some areas of improvement.
To reach our full potential and continue delivering innovative data solutions, the ALA will have a future focus on projects that aim to:
increase data quality within the ALA
deliver a diverse range of data to support biodiversity reporting
harmonise industry data gathered through surveys with existing data available through museums, herbaria, and state data programmes
take a leadership role in facilitating cooperation and collaboration between institutions
integrate additional data streams, such as images, genomics, sounds recordings and environmental assessment data to paint a more extensive picture of Australian biodiversity.
We have already embarked on several projects to transform the way people access biodiversity data through the ALA. These include our recently released data profiles functionality and a core infrastructure upgrade project that is being delivered in close partnership with GBIF, which will improve alignment between ALA and GBIF systems and data.
We are excited to see what the future holds and look forward to the continued relationship with our founding partners and others who have become part of the community along the way. These relationships allow us to tackle future challenges collaboratively, and to provide solutions with wide reaching benefit and impact.
Further information: